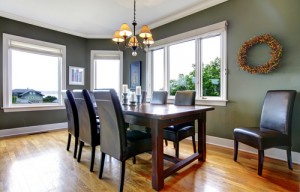 You want a dining room that's both classic and yet beautiful. There's just one problem: you own pets. Why is that a problem? Well, for starters, dogs, cats, birds, and other animals are inherently messy. What you want (what you need) is a way to keep your beautiful furniture looking clean while still having an elegant living space. Here's how to pull it off.
Use Durable Fabrics and Drapes
Fabrics that wash easily are key to keeping your dining room looking great. When you have dogs, especially large dogs, one of the risks you accept is the fact that your drapery will be soiled some of the time. Being able to easily clean everything will save you from pulling your hair out. It'll also save you money since you won't have to keep buying new curtains.
What about table clothes? Easy. Stick to stain-resistant ones or go naked. You don't necessarily need a table cloth on a table. If you are into the rustic-classical look, a beat up table (i.e. distressed) will look like it belongs there. Hardly anyone will notice the teeth marks. And, if your pets do use it as a scratching post, it can always be sanded down and refinished.
No need to compromise
Not many of us want to compromise and sacrifice great looking quality furniture like those found on http://www.swiveluk.com/uk/, just because you have a pet in the home. Pets have accidents. It's not their fault. When you have kittens or puppies, accept it as a fact of life. They're learning. Remember, they're not humans but they are still somewhat like children. You can't reason with them, and everything around them is new. They don't know how to hold their bladder yet.
Just make sure you arrange a temporary cover over your nice furniture while you are training your pet to behave. It is better to have some nice furniture underneath like a Hans Wegner or Charles Eames, that you can enjoy rather than settle for something that is "wipe clean" and most likely not what you really want to sit on.
Have Hard Wood Flooring
One of the best moves you can make is to switch to hard wood flooring. It looks amazing, and it's easy to clean if Fido accidentally goes to the bathroom where he's not supposed to. Carpet is a magnet for pet hair, and urine and feces don't always come out completely without expensive sprays and a lot of elbow grease.
With a hard wood floor, all you have to do is mop the spill and you're good to go.
Use A Matt or Gloss Finish On The Walls
When you go with matt or high-gloss finishes, it makes it much easier to clean spills and messes that your pets might leave. Flat finishes may look great, but they don't hold up to frequent cleaning.
Your best option is the high-gloss finish. However, some people hate it because it has a natural shine to it. Matt is a second-best option and should do fairly well if you have to clean it frequently. Just make sure you buy a good quality paint and put down several layers of it.