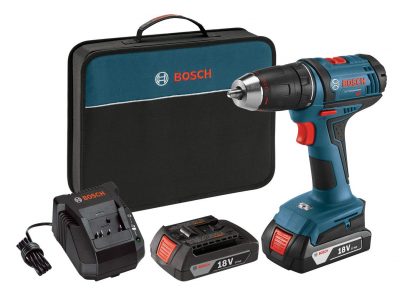 The Drill/Driver is ideal for everyday drilling and driving applications. It offers a two-speed transmission, one optimized for heavy-duty driving and the other for high-speed drilling. Get the Bosch Power Tools Drill Kit – DDB181-02 – 18-Volt, ½", Compact Drill for only $74.99 today!
LIGHTWEIGHT, DURABLE, POWERFUL DRILL KIT: Its lightweight design allow for optimal handling in even the tightest spaces, which increases accuracy and precision. Keep the power, which provides 350 lbs of optimized torque for powerful fastening and 1,300 RPM for fast, efficient power drilling. Perfect for electricians, plumbers, and HVAC tradesman looking for a solution that not only fits in their pouch, but it can handle most everyday tasks with 18-Volt battery power.

TWO-SPEEDS FOR OPTIMAL PERFORMANCE: The drill works at two speeds: 400 RPM and 1,300 RPM (no load). It provides 350 inch/pounds of torque, which is enough to drive most common fasteners and drill bits. The 20+1 clutch settings and variable-speed trigger help user versatility to match the speed to the task at hand. The drill in the kit is compact for more control in tight corners.

ELECTRICIANS, PLUMBERS, AND HVAC TRADESMAN: Our solution fits in a pouch, and it can handle most everyday tasks with 18-Volt battery power. Have confidence that our quality power tools and drills make an immediate impact while delivering with efficiency. Complete more jobs faster in difficult, tight spaces. Our electric drill and power sources offer flexibility for exceptional precision and accuracy.

DRILL SET EASY RETURNS: Bosch manufactures and promotes premium quality power tools and products for Electricians, Plumbers, HVAC Tradesman, men, women, and adults. We are a global, provider that delivers the best in quality, function, style while providing excellent customer service. We stand by our products and we'll refund the purchase within 30-days on quality-related issues along with our 1-year warranty.
This post contains affiliate links.