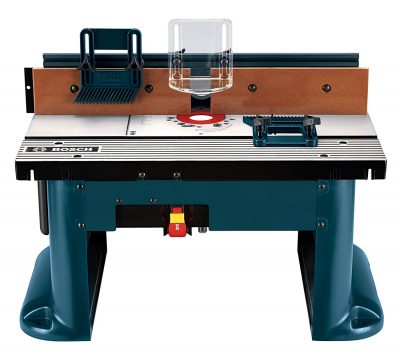 The Bosch RA1181 benchtop router table provides a large work surface for woodworking and routing. Designed to fit a variety of routers, this router table is a versatile piece of equipment that will serve as an indispensable part of any woodworking shop. Its 2-1/2 inch dust collection port offers better dust collection for a cleaner work environment. The large aluminum top makes the table both durable and portable. This benchtop router table includes mounting hardware, features a tall aluminum fence with adjustable MDF face plates, two outfeed shims, and an aluminum router mounting plate. The starter pin and guard for router curved workpieces is also included, in addition to the built-in cord wrap for convenient storage and portability. Click here to get this exceptional Bosch Benchtop Router Table for only $149.25 today!
SUPPORT: The tall aluminum fence measuring 4-7/8 in. x 25-1/8 in. can handle tall stock with ease. The fence is complete with adjustable MDF face plates for smoother operation with taller work pieces and outfeed can be offset for jointing. Attaches to any workbench.

PRECISION: The Bosch RA1181 features a rigid aluminum router mounting plate that stays flat and precise for accuracy. For added versatility, it's pre-drilled to fit a variety of routers.

EASY TO USE: Two easy-to-use featherboards attach to fence and router table, providing additional guidance and protection against kickback. They're fully adjustable to fit a variety of workpieces.. Accessory slot accepts additional featherboards and 3/4-inch optional accessories such as miter gauge.

CLEAN UP: With a cabinet-style design, the RA1181 is able to feature a dust collection port in the fence for removing any jobsite dust and debris. The port fits standard 2-1/2-inch vacuum hoses to connect to dust collection system or shop vacuum.

CONVENIENCE: Includes Set of three Mounting Plate Insert Rings to adjust opening to bit size, Hardware for mounting Bosch and many competitive routers, adjustable featherboards , Adjustable Clear Guard , Starter Pin and Guard , Outfeed Fence Shims – 1/16 in. Thick
This post contains affiliate links.