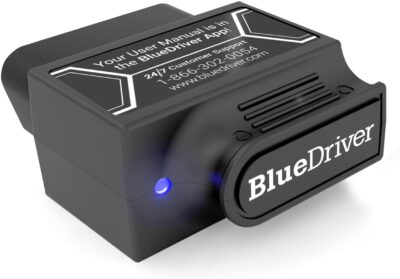 Get a little more insight into your car's health with today's deal. Click here to get the BlueDriver Bluetooth Pro OBDII Scan Tool for iPhone & Android, only $69.95 today! BlueDriver reads (and clears) all the codes the other guys read and the ones they don't. BlueDriver's Enhanced Diagnostics give you complete access to information normally only accessible to professional mechanics on their most expensive scan tools.
Read and clear your Check Engine Light and all other vehicle systems. Get your unlimited free vehicle specific Repair Reports, generated from our database of millions of fixes verified by Professional Automotive Technicians

As easy to use as a code reader with all the capabilities of an expensive handheld scan tool, plus the benefits of your smartphone or tablet (free app updates, portability, saving data, interactive graphing of live data)

Officially licensed and certified for Apple and Android devices

The BlueDriver App and BlueDriver Sensor work exclusively with each other to ensure quality

BlueDriver is the Professional OBD2 Diagnostic Scan Tool trusted by mechanics and developed by Professional Engineers in North America
This post contains affiliate links.