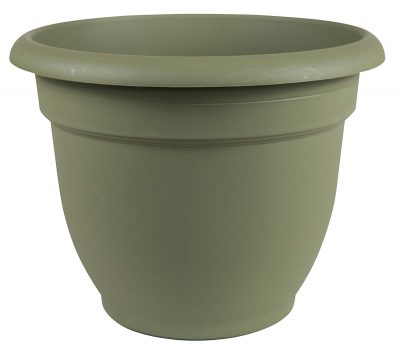 I love this planter! (I have them all over my house). Right now, get the Bloem 20-56406 Fiskars 6 Inch Ariana Planter with Self-Watering Grid, Thyme Green for only $2.87. The Ariana planter will quickly become one of your favorite pots because it helps keep your plants from drying out and will reduce the time you spend watering. Inside the planter there is a hidden reservoir located at the bottom of your pot and holds approx. 1"-3.5" (depending on planter size) of water. This self-watering insert keeps dirt and roots above the hidden reservoir while constantly providing healthy 'greenhouse-like' moisture through the evaporation process.
Save you time by reducing watering frequency and provides a consistent water supply that helps plants thrive

Perfect solution for going on vacation and busy schedules

Potting mix is held above water chamber and connected by small porous channels filled with soil which act like a water wick through the evaporation process

Top width 6.5″ (x) base width 3.5″ (x) 5.25″ height

Matte finish is perfect for resisting scratches, dirt, and fingerprints

100% UV stabilized polypropylene plastic ensures long lasting color and withstands extreme weather conditions + BPA free

When to add drainage holes? While various kinds of plants have different drainage needs, few can tolerate sitting in stagnate water for extended periods of time. If exposed to intense periods of rainfall or storms, your soil may not be able to absorb or evaporate the water fast enough. When the pot is in an unsheltered location we recommend punching out drainage holes.

The process is extremely quick and easy with the right tools. Flip pot upside down and locate areas marked "X" for recommended hole locations.Then punch out holes by using either a drill with a drill bit or a hammer and a nail. The process should only take a minute or two, then the pot will be ready to fill with potting soil and plants of your choice.
Remember, Amazon prices can change at any time.
This post contains affiliate links.