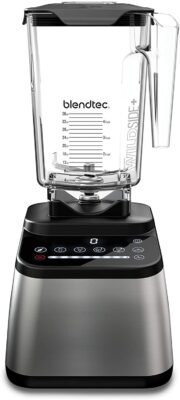 Blendtec is the blender of choice at restaurants like Panera Bread and Checkers, coffee houses like Peet's and Dunkin' Donuts, and smoothie shops like Jamba Juice, Baskin Robbins, Bahama Bucks and Planet Smoothie to name a few. What you may not know is that our blenders are also in thousands of homes across the world. We constantly innovate our products to produce blenders with industry best life-spans. Come visit us at our headquarters in Orem, Utah where we manufacture everything domestically. Right now, score the Blendtec – Original Designer Blender – WildSide+ Jar (90 oz) – Professional-Grade Power – Self-Cleaning – 6 Pre-programmed Cycles – 8-Speeds – Sleek and Slim, Stainless Steel for only $270.20! You'll be saving $212!
Variable Blending Cycles: 8 speeds for variable speed control and the ability to achieve a variety of textures. Complete control to adjust your blending at any time while blending. Led display with 7 varying blending options, showing duration/time remaining on blend cycle.

Touch Interface/Reduced Noise: Touchscreen controls give the machine a sleek silhouette and are easily wiped clean. Reduced motor noise due to internal baffling.

Large Batches: BPA-Free WildSide+ Jar is a 90 ounce volume jar with 36 ounce blending capacity (wet or dry) ideal for blending beverages for 4-6 people.

Warming Soup/Self-Cleaning: Blendtec blenders heat soups and drinks through blade friction heat. Enjoy a warm meal or beverage in 6 minutes or less. Clean-up time: Add a little soap and water, your jar can clean itself in less than 1 minute.

8 Year Warranty/American Company: Family-owned and driven to build the best quality products – without compromise. Engineered and assembled in the USA.

Electrical Ratings: Watt 1560, Volts 120, Hz 50-60, Amp 13, Cord: feet 35inches/3 feet.
Remember, Amazon prices can change at any time.
This post contains affiliate links.