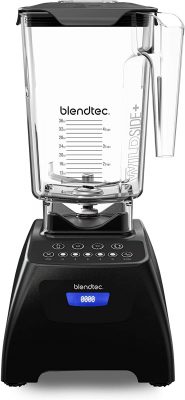 Create large batch smoothies, cocktails, salsa, hot soup and batters for the whole family. No more wasting time cutting up ingredients just to blend them – throw your items into the jar and you'll be delighted with the results. Our quality gives you the confidence you need for years to come. Today only, get the Blendtec Classic 575 Blender – WildSide+ Jar (90 oz) – Professional-Grade Power – Self-Cleaning – 4 Pre-programmed Cycles – 5-Speeds – Black for only $210.99! Check the reviews on this appliance and you'll be sold!
Easy Blending Cycles: 1-touch buttons, 4 pre-programmed cycles, pulse, and 5 speed manual control with the ability to achieve a variety of textures. Complete control to adjust your blending at any time while blending. LCD display: Shows blending cycle time remaining.

No Chopping Prep: Save time and never a need to chop, slice or dice in advance of blending.

Patented Blade/80% Thicker: Stainless-Steel forged blade, with wings, for amazingly smooth blends (10X stronger than other blender blades). Note: Blade is not sharp, blade is dull. No more cuts and pokes.

Self-Cleaning: Add a little soap and water, your jar can clean itself in less than 1 minute.

Large Batches: BPA-Free WildSide+ Jar is a 90 ounce volume jar with 36 ounce blending capacity (wet or dry) ideal for blending beverages for 4-6 people.

8 year warranty/American Company: Family-owned and driven to build the best quality products – without compromise. Engineered and assembled in the USA.

Electrical Ratings: Watt 1560, Volts 120, Hz 50-60, Amp 13, Cord: 34inches/3 feet
This post contains affiliate links.