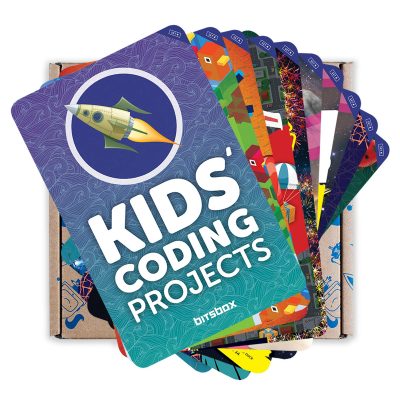 Your kids would love this! Introducing Bitsbox, a Coding Subscription Box for Kids Ages 6-12. Get your first box for only $14.97 today. STEM Education is very important for children as our world becomes more and more dependent on science and technology. Bitsbox was founded in 2014 by two former Googlers who wanted to teach kids to code. Their idea was to combine beautifully designed example projects with a simple website where kids could build apps and share them with their friends and family. Sending the projects by mail on a regular schedule keeps kids excited and makes coding easier to learn.
VOTED #1 STEM BOX FOR KIDS – Kids start by coding from examples and progress quickly to inventing their own apps.

PERFECT FOR KIDS AGES 6 TO 12 – No previous coding experience is necessary. Each kit includes a helpful Grownup Guide and unlimited email support, too!

REAL COMPUTER PROGRAMMING – And crazy fun! Bitsbox delivers coding projects that teach kids to make video games, greeting cards, simulations and more. Bonus! Apps work on real phones and tablets!

EXPLORE A NEW CONCEPT EVERY MONTH – Subscription box mailed monthly. Each one builds on the last and encourages kids to code more complex and exciting apps.

WARNING: FREQUENTLY LEADS TO FITS OF GIGGLES & LAUGHTER – Coding for kids with Bitsbox strikes a balance between challenge and entertainment, as kids practice life skills like problem-solving, typing and persistence.
This post contains affiliate links.