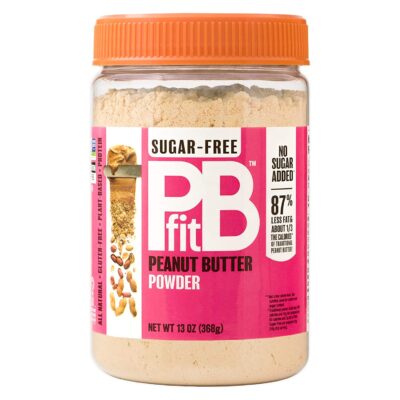 Made from simple ingredients, PBfit All-Natural Peanut Butter Powder delivers a delicious taste without the high fat content that comes in other peanut butter products. Made with real roasted peanuts, this nut butter powder provides the classic peanut butter taste that your whole family loves. Now, you can make PB&J sandwiches with low-fat, natural peanut butter. Add some of this delicious peanut butter powder into your baked goods, breakfast smoothies, or pre-workout shakes. The possibilities are endless with this natural peanut butter powder. Make keto oatmeal, vegan chocolates, peanut protein shakes, and more. Because PBfit peanut butter powder is non-GMO, USDA organic, dairy-free, soy-free, and gluten-free, it can be enjoyed by nearly everyone. Do PB&J the leaner way by adding it to sandwiches for lunch, your breakfast shakes, or even a fresh acai bowl for a nutty taste to get your morning started off right. BetterBody Foods is dedicated to bringing you delicious foods to boost your physical well-being and to giving you alternatives to guilt-inducing foods. Being healthy doesn't have to be bland—it should be enjoyable! That's why we make sure to use only the highest-quality and tastiest ingredients possible for your cooking, baking, and other culinary needs. Click here for BetterBody Foods PBfit Sugar-Free, Made with Erythritol and Monk Fruit, All-Natural Peanut Butter Powder 368g (13 Ounces), only $8.66!
SAME GREAT TASTE: Introducing PBfit that is sugar-free. Now, you can get the great benefits of PBfit with no added sugar! We use a naturally sweet monk fruit blend to give PBfit Sugar-Free a similar flavor to PBfit Original.

SIMPLE INGREDIENTS: PBfit Sugar-Free is made with 3 simple ingredients: peanut flour, monk fruit blend (erythritol and monk fruit extract), and salt. Did we mention it's all-natural and gluten-free.

DELICIOUSNESS DEFINED: For a delicious, reduced-fat peanut butter spread, mix 2 tbsp. of dry PBfit Sugar-Free with 1.5 tbsp. water. Stir until smooth, and spread anywhere you would put regular peanut butter.

PROTEIN POWER: With 8g of protein in one serving of PBfit Sugar-Free, you can get a boost of protein right after your workout at the gym. Try adding it to the protein powder you already use or add it in your morning smoothie for a delicious protein boost. Great for men and women.

BLEND, BAKE, OR SHAKE: When it comes to the uses for PBfit, the possibilities are endless. Mix into baked goods like bread, pancakes, waffles, and cookies to add a great peanut butter flavor. You can also blend it into breakfast smoothies and other drinks for a tasty, low-fat protein boost after the gym. Great for men and women.
Remember, Amazon prices can change at any time.
This post contains affiliate links.