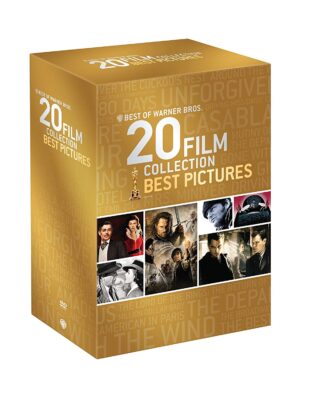 Here's another great gift at an amazing price! Click here for the Best of Warner Bros 20 Film Collection: Best Pictures, only $19.96 for a limited time! This gift set contains 20 Best Picture™ Winners on 23 Discs! Here are the movies this set contains:
The Broadway Melody (1929)
Grand Hotel (1932)
Mutiny on the Bounty (1935)
The Life of Emile Zola (1937)
Gone with The Wind (1939)
Casablanca (1942) – 1943 Academy Award® Winner
Mrs. Miniver (1942)
The Best Years of Our Lives (1946)
An American in Paris (1951)
Around the World in 80 Days (1956)
Gigi (1958)
Ben-Hur (1959)
One Flew Over the Cuckoo's Nest (1975)
Chariots of Fire (1981)
Amadeus: Director's Cut (1984)
Driving Miss Daisy (1989)
 Unforgiven (1992)
The Lord of the Rings: The Return of the KingTM (2003)
Million Dollar Baby (2004)
The Departed (2006)
Also includes a 24-Page Booklet.
Remember, Amazon prices can change at any time.
This post contains affiliate links.