I've been in search of the best natural deodorant and took it upon myself to test out a few sticks, sprays, and roll-ons. Some of them flat-out didn't work. I'm sharing my findings with you because buying deodorants that don't work stinks — literally! Plus, it's a waste of money.
Unlike antiperspirants, the deodorants I tried don't contain parabens, PEGs, and synthetic ingredients so you will have some wetness (your body was built to sweat, after all), but you shouldn't smell.
Below I compare natural deodorant prices, and their staying power. Plus, I also share a homemade DIY Deodorant Recipe.
I tried out five brands that can be bought at your local health food store. The sixth deodorant is a DIY recipe.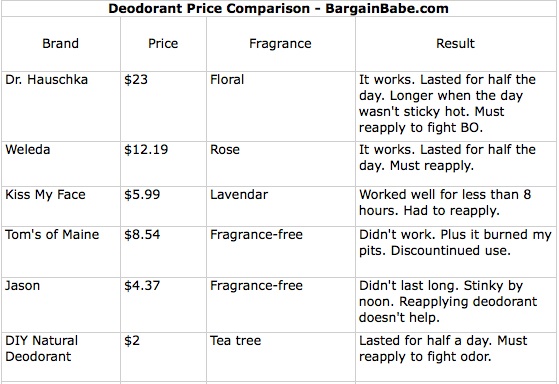 The most expensive natural deodorant was Dr. Hauschka. It lasted longer than the other deodorants and fought BO for a good 12 hours. The product lasted me about two and a half months, but I don't see myself forking over $23 for a new deodorant regularly.
The second most expensive deodorant was Weleda. It worked just as well as Dr. Hauschka. The third most expensive deodorant was Tom's of Maine, which did not work for me. I do like the Tom's of Maine toothpastes so this was disappointing — especially because I was left with burnt armpits for two weeks.
The Tom's of Maine deodorants were reformulated and my skin reacted to an ingredient. Their old formulation worked well for me. Needless to say, I won't be repurchasing this product.
The last two deodorants I used were Kiss My Face and Jason. Kiss My Face was a roll-on and lasted longer than Jason. The Jason stick was only slightly better than Tom's of Maine because I didn't give me a rash, but my sister kept telling me I smelled like onions. I don't even like onions!
Then I discovered a DIY deodorant recipe and gave it a try. For a fraction of the cost, you can mix ingredients you probably already have at home to keep you from smelling.
DIY Natural Deodorant Recipe
5-6 Tbsp Coconut oil
1/4 cup baking soda
1/4 cup cornstarch
Those with sensitive skin must watch out for any burning sensation. If you feel any discomfort, stop using the deodorant or you'll end up with burnt pits. I tend to add a little less baking soda (1/8 cup) because I believe this ingredient is what made me react to the Tom's of Maine deodorant.
I refuse to pay more than $5 for a deodorant so I'm going to stick to this recipe and alternate with the expensive Dr. Hauschka and Weleda.
As with all natural deodorants, your body will react differently to them because of your natural smell. What may have worked for me, may not necessarily work for you. My suggestion: Look for coupons, sales, and discounts to find a natural deodorant that works for you.
How much money do you spend on deodorant? What's your fave natural deodorant?