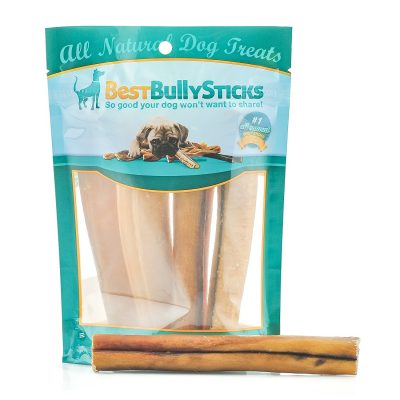 6-inch Jumbo Bully Sticks provide a Long-Lasting, Durable treat that is also 100% Natural. Made from only Free Range, Grass Fed Beef means our Jumbo Bully Sticks serve as a healthy alternative to rawhide. Click here for Best Bully Sticks Premium 6-inch Jumbo Bully Sticks, All-Natural, Free-Range, Grass-Fed, 100% Beef Single-Ingredient Dog Chews, 4 Pack only $10.99.
100% All-Natural: Sourced from the Highest Quality Free Range, Grass Fed Beef

Longlasting & Twice as Thick: Double the thickness of standard bully sticks for Aggressive Chewers and Longer chew time

Promotes Dental Health: Jumbo Bully Sticks are Long-Lasting and Durable to Fight Tartar and Plaque

Authentic Meaty Taste: Made from 100% Beef providing the Natural Beefy Flavors that Dogs Love!

Safer & Superior Rawhide Alternative: Each Bully Sticks is Hand-Inspected to ensure a Safe, Healthy chewing experience for your pup
This post contains affiliate links.