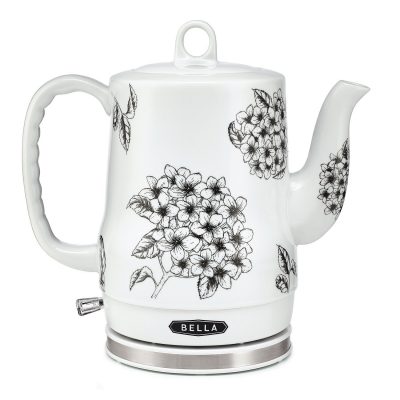 Lowest price ever on the BELLA 1.2L Electric Ceramic Tea Kettle in Black Floral! Get it right now for only $31.99 (reg. $48.99)! I think this is so pretty and would make such a nice gift for the right person. Also, there's no plastic in this electric kettle (a lot of them have plastic water indicators) so you don't have to worry about BPA or anything like that. 
With it's timeless beauty and thoughtful features geared towards entertaining the BELLA 1.2L Ceramic Electric Kettle is the perfect addition to any kitchen

Featuring a 1200 watt heating element this electric kettle boils water faster than a microwave and safer than a stove. Boil dry protection and auto shutoff ensure you are never reaching burning point

With one flip of a switch you are boiling water for hot tea, coffee, instant soups, oatmeal and more! On/off switch feaures a blue LED light so you know it's on

Long gooseneck style spout is ideal for controlled pours, essential for gourmet french press coffee and teas. Also, helps eliminate the chance for dangerous over pours

A fully detachable base allows you to safely and easily transport from your countertop to dinner / coffee table. This versatility makes it perfect for serving guests and tea parties
 This post contains affiliate links.