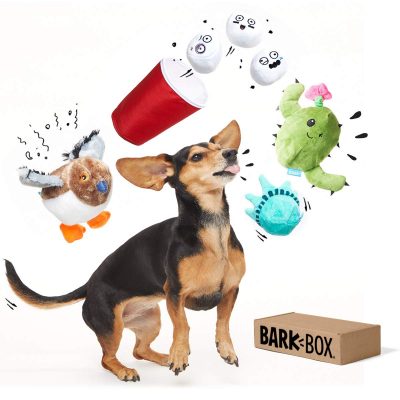 Here's just what your canine companion needs! Today only, get the BarkBox Best of Box Plush Toy Bundle for Small, Medium, and Large Dogs, 2-in-1 Squeak and Chew Toys for only $24.99 today. There is a box especially for small dogs or large ones!
SMALL/MEDIUM: Best for dogs 15-48lbs — any breed from a French Bulldog to a Border Collie will love these! LARGE: Best for dogs 49-100lbs, like Labs, Golden Retrievers, and German Shepherds. MEET THE BEST OF BARKBOX: These bestselling BarkBox toys are not all that they seem. When your dog tears through their fluffly exterior, another toy is revealed. Crazy crinkle and squeaky balls only add to the drama. Hidden Bonus Toy!

LONGER-LASTING: These toys are designed to be destroyed, with a smaller surprise for your pup to make for long lasting playtimes. Non-toxic plush from only the most high-quality manufacturers ensures that this toy is safe for all pups to play with.

ACTIVE LIFESTYLE-READY: Great for playing, fetching, or tug of war. Fun additions to your dog's active lifestyle. Outlast and outperform. Thoroughly-tested. Challenge. Keep entertained, high quality, detailed design. Playtime. Indestructible. Safe. Are you still reading this? 🙂 Great for small dogs. Great for bonding and relationship building.

SCOUT'S HONOR: WE CARE ABOUT YOUR PUP: If you and your fur babies would like to check in on their progress or you aren't happy with our product, please contact us–we're happy to offer a money-back guarantee on the product. Your dog's welfare is our priority. Please feel free to reach out to us at 844-231-2275!
This post contains affiliate links.