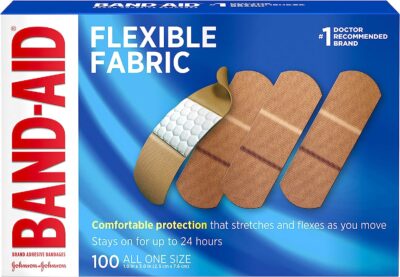 Add the Band-Aid Brand Flexible Fabric Adhesive Bandages, All One Size, 100 Count to your Subscribe & Save and clip the 35% off coupon to get it for only $5.24!
100-count Band-Aid Brand Sterile Flexible Fabric Adhesive Bandages for first aid and wound care protection of minor wounds, cuts, scrapes and burns. Adhesive bandages make a great addition to wound care supplies and first aid kits

Made with Memory Weave fabric for comfort and flexibility, these first aid bandages stretch, bend, and flex with your skin as you move, and include a Quilt-Aid Comfort Pad designed to cushion & protect painful wounds which may help prevent reinjury

These Band-Aid Brand Flexible Fabric adhesive bandages stay on for up to 24 hours and feature a unique Hurt-Free Pad that won't stick to the wound as they wick away blood and fluids, allowing for gentle, pain-free removal

From the doctor recommended bandage brand, Band-Aid Brand Sterile Fabric Adhesive Bandages help protect against dirt and germs that may cause infection for up to 24 hours. Plus, wounds covered with a bandage heal faster than uncovered wounds

A great addition to a first aid kit, apply flexible fabric bandages to clean, dry skin for minor wound care & change daily, when wet or as needed. For proper wound care, treat with wound an antibiotic ointment such as Neosporin prior to application
Remember, Amazon prices can change at any time.
This post contains affiliate links.