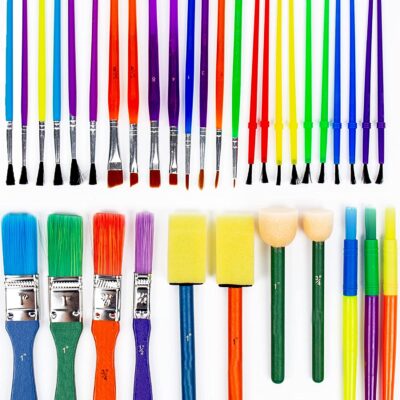 Click here to save on Back to School Supplies from Crayola, Snap Circuits and more!
It's painting time! Your next artistic adventure begins with this 35-Pack of Assorted Paintbrushes from Horizon Group USA! Whether you're painting class projects or adding the final touches to a masterpiece, this pack of paintbrushes will fuel your creativity. With 8 different types of paintbrushes to work with, you can explore tons of exciting painting techniques — from color blocking to color-mixing and more! Use the sponge and foam dabbers to play with texture, giving your artwork a unique look. Ready to start creating? Head over to the Craft Project Ideas website for some inspiration! Perfect for ages 6+. Get this Horizon Group USA Paint Brushes -35 All Purpose Paint Brushes Value Pack – Includes 8 Different Types of Brushes, Great with Watercolors, Acrylic & Washable Paints. Multicolored for only $5.99!
35 QUALITY PAINTBRUSHES: Stock up on the craft materials you need to create your next masterpiece and strengthen those fine motor skills with these easy-to-hold paintbrushes.

ASSORTED BRUSH TYPES: Use the flat or angled brushes to cover large areas with paint or create strokes with crisp edges, round brushes for creating thick-to-thin lines, and small brushes for intricate details! Round, foam, angled, spotter, liner, shader — explore all kinds of painting techniques with a vast variety of bristle and brush types!

MIX & BLEND COLORS: From watercolors to acrylics, grab your favorite paints from home and experiment with color-mixing to make new hues and shades! Great for a variety of paint mediums!

GREAT FOR GROUPS: This value pack of 35 paintbrushes makes for the perfect group crafting day at school or home! A classroom or studio essential!

SET INCLUDES: 3 Chubby Round Brushes, 2 Large Foam Brushes (1 in.), 1 Large Round Foam Brush (1 in.), 1 Medium Round Foam Brush (0.75 in.), 2 Large Nylon Brushes (1 in.), 1 Medium Nylon Brush (0.75 in.), 1 Small Nylon Brush (0.5 in.), 6 Black Nylon Brushes (Sizes 1-6), 2 Nylon Shader Brushes (Sizes 4 & 8), 1 Medium Angular Shader (0.25 in.), 1 Small Angular Shader (0.375 in.), 2 Round Brushes (Sizes 1 & 3), 1 Liner Brush, 1 Spotter Brush, 10 Standard Nylon Paintbrushes
This post contains affiliate links.