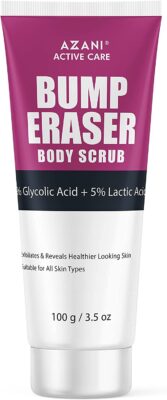 The Bump Eraser Body Scrub made with Glycolic Acid, Lactic Acid, Green Tea and Walnut gently exfoliates off dead skin and impurities, hydrates and moisturises away dryness to give you bump-free, lively and lighter looking skin everyday! Get this Azani Bump Eraser Body Scrub| 5% Glycolic Acid + 5% Lactic Acid| Exfoliator for Keratosis Pilaris, Body Acne, Dead Skin, Ingrown Hair, Razor Bumps, and Rough Patches | Knees, Arms & Neck|3.5 Oz for only $10.39.
GENTLE EXFOLIATION OF DEAD CELLS: The 5% Glycolic Acid efficiently sheds dead cells from outer layer of skin and cleans pores from the inside, leading to a more even tone and texture of your skin.

CLEARS OFF IRRITANTS & PREVENT INFECTION: Along with the antibacterial properties of Glycolic Acid, the anti-inflammatory qualities of Green Tea help in keeping your skin clean, free of bumps, redness and other infections.

HYDRATES SKIN FOR SMOOTHNESS: Lactic Acid is well known for its mildness and in this incredible blend, it is the one that keeps your skin hydrated and nourished for a visibly smoother and brighter look!

WHAT DOES IT DO: The Bumper Eraser Body Scrub is a daily exfoliating scrub made with the finest natural ingredients to deal with problem areas like arms, legs and back that suffer from tiny bumps, rough patches, uneven skin tone and texture. It gradually treats the skin to be lighter, smoother and healthier.

MADE WITH CARE: Our product is made from pure and natural ingredients, free of parabens, silicon, nuts & gluten. It is also alcohol-free, vegetarian, cruelty-free and scientifically tested with pH 4-4.5, non-irritating to skin.
This post contains affiliate links.