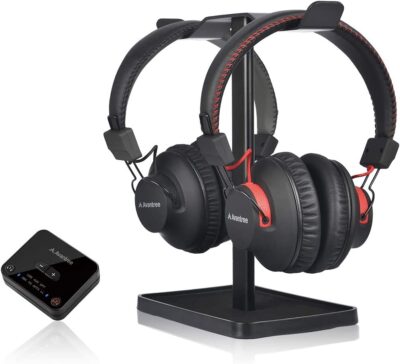 Save on Avantree Duel TV Wireless Headphones with Transmitter!
BOTH headphones reduce audio lag to levels almost virtually undetectable by the human ear. Finally you can enjoy a high quality audio experience in perfect synchronization with your family / friend. Get this Avantree HT41899 Dual Bluetooth 5.0 Wireless Headphones for TV Watching (Set of 2) with Transmitter (Optical AUX RCA) & Headset Stand, Individual Volume Control, 40Hrs Playtime, Plug n Play, No Delay for only $135.99. 
【Two Headphones, One Audio】 The Avantree HT41899 wireless set comes with two pairs of Bluetooth 5.0 headphones; with these, you'll be able to enjoy the audio experience with a partner. What's more, these are versatile; when your partner is not available, the device can work in single-headphone mode, so you can still enjoy TV by yourself.

【Personalized Volume Level】The volume level that works for one person does not always work for another. The HT41899 solves this issue by allowing either headphone to adjust its own volume independently, letting the user personalize his/her volume level without affecting the other user (headphone).

【Universally Compatible】 Thanks to HT41899's Optical, AUX, and RCA input cables, it i

s universally compatible and works with all TVs on the market. With it, you'll be able to listen to your favorite TV shows/movies at your own volume; you'll no longer have to turn the TV speaker volume all the way up and disturb your family or neighbors.

【Hassle-Free Set Up】 There's no need to go through the complex Bluetooth pairing process; simply plug 41899's transmitter box into your TV's audio output port, power everything on, they'll quickly connect with each other, and you should be good to go. Works brilliantly with older Non-Smart TVs as well.

【All In-Sync, No Audio Lag】 With "FastStream" Bluetooth built-in, the 41899 provides <40 ms audio latency – significantly lower and better than the 200+ ms of typical Bluetooth solutions on the market. With this feature, no matter what content you're watching, the audio and visual will always be perfectly synchronized.
This post contains affiliate links.