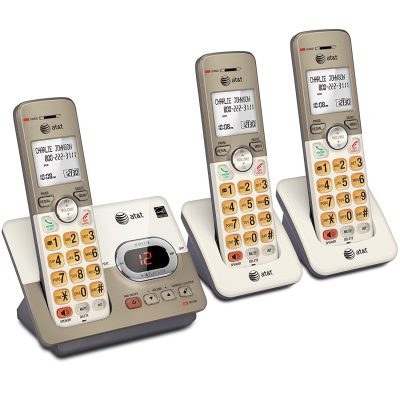 Get a great deal on a home phone bundle today! Click here to purchase the 3 headset AT&T EL52313 Expandable Cordless Phone with Answering System & Extra-large Backlit Keys for only $39. You'll be saving 40% today!
Enjoy a speakerphone that can keep up with your calls. Increase participation by allowing both ends to speak—and be heard—at the same time for conversations that are more true to life.

Easy-to-read LCD on the cordless handset. High-contrast black text on a white background provides for an easy-to-read screen to view incoming Caller ID or review call history. The lighted keypad also allows for easy dialing in low-light conditions.

Enlarged font and extra-large, backlit keys make the keypad easy to use. This feature is especially helpful for those who are visually impaired.

Features digital recording features like 4 minutes of recording time , Call screening , Call intercept Remote access , Message retrieval from handset , Message time stamp

By allowing you to add up to 5 handsets using just one jack, the EL51203 is ideal for your busy home or small office (model EL50003 accessory handsets sold separately).
This post contains affiliate links.