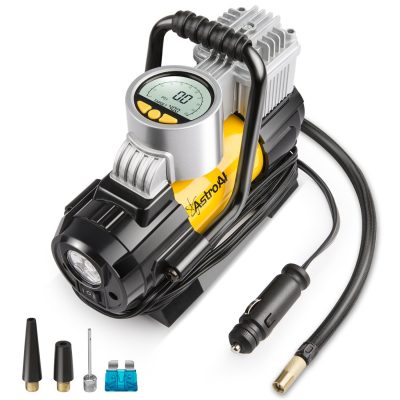 The AstroAI 12 Volt Portable Air Compressor Pump makes filling tires extremely easy and fast, and today it's only $29.24. Instead of filling a tire, checking the pressure, adjusting, checking, and repeating over and over again, simply fill the tire to the exact pressure you want. Fill a tire to specification twice as quickly or even faster by using fewer instruments! Save time and just fill it right the first time.
NOTE:Please ensure the current of your automobile cigarette lighter is from 10 to 15 amps to avoid automobile fuses from blowing; DOES NOT SUPPORT LT, HT and Truck Tires; DOES NOT SUPPORT Presta valve; It only can be used on DC 12V power source, but not compatible with AC 110V, AC 220V, DC 24V and DC 36V

Check out our VIDEO on the left side and take a quick tour of AstroAI air compressor! INCREASED SAFETY: Properly inflated tires provide better performance in all weather conditions; prevent crashes, tire explosions, and premature tire wear

INTEGRATED IN-LINE FUSE prevents overloading the air compressor, making it safer for everyone to use

ADVANCED ACCURACY: Professionally calibrated to always return a reading within 1% of the pressure of your tire. No more guessing! The final inflation value will be 0.5-1.5 PSI higher than the preset value; When inflation is finished, it perfectly solves the problem of reduced pressure after removing the valve connector, thus making inflation more accurate

EASY AND QUICK: Simply turn your vehicle on, plug in the air compressor, and inflate! A high-flow pump inflates your tires up to 35 Liters per Minute, putting you back on the road quickly; includes a storage case for added conveninece

OVERHEAT PROTECTION: Overheat protection will shut off automatically when exceed 100℃/212℉; Maximum continuous operating time: 30 Minutes

ALL-IN-ONE FEATURES: The LED backlit screen features measurements in PSI, KPA, Bar; Includes a needle, two cone adapters, spare fuse and valve caps, and a built-in LED flashlight

3 Years Warranty Provided by AstroAI
This post contains affiliate links.