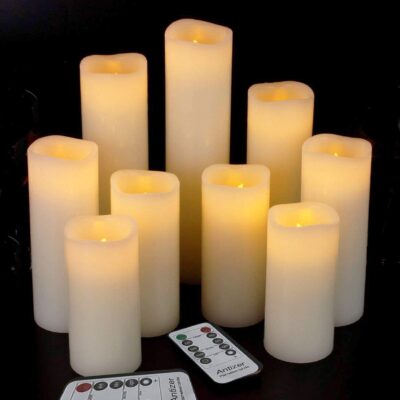 Decorate with beautiful candles that will last! Click here to score Antizer Flameless Candles Led Candles Pack of 9 (H 4″ 5″ 6″ 7″ 8″ 9″ x D 2.2″) Ivory Real Wax Battery Candles with Remote Timer for only $22.68!
A BEAUTIFUL DECORATION FOR EVERY HOME: The premium flameless candle lights set includes 9 real wax pillar candles, two 4″, two 5″, two 6″, a 7″, a 8″, a 9″ height with 2.2″ thick candles and two remote controls. Their ivory color and elegant design is the perfect fit for any space, and will complement any style of decoration in a wonderful way!

BEAUTIFUL & REALISTIC LOOK: These amazing flameless candle lights have a genuine wax pillar body and LEDs that give off warm, natural-looking light. Your friends probably won't even be able to tell the difference between these and real candles without taking a better look!

AMBIENT OR ROMANTIC ATMOSPHERE: If you want to create a warm ambient or even romantic atmosphere, these are the perfect candles for you. The beautiful, natural-hued light they give off is the perfect way to set the mood. Light them up and add some spice to your evenings, dinners or holidays!

NO OPEN FLAMES & FIRE HAZARD: Lighting candles in your home can be dangerous, but you have nothing to fear from these ones. They are 100% safe and totally flameless. All their light and luminosity comes from their battery operated LED bulbs, so they are a great and safe choice, even for families with pets and small children!

REMOTE CONTROL & TIMER FUNCTION: Along with your real wax pillar LED flameless candles you will receive a convenient 10-key remote controller that allows you to set your candles on a 2, 4, 6, or 8 hour timer. Just set the timer function and enjoy your evening – you don't have to worry about switching them off later!
Remember, Amazon prices can change at any time.
This post contains affiliate links.