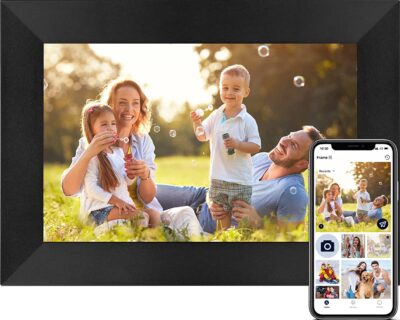 Save on Anna Bella Digital Photo Frames!
The IPS full HD touch screen with 1280*800 resolution and 16:9 aspect ratio provides you with sharp details and vivid colors, which can give you perfect visual enjoyment from any angle. The Anna Bella digital photo frame allows you and your family to relive precious memories all the time! No matter when and where, as long as you download the "AiMOR" APP (no subscription required), you can easily transfer any photos/videos (up to 15 seconds) in your life or journey to the digital frame. Note: The digital picture frame can only receive photos and videos with WiFi (2.4GHZ) connected. Get this Digital Picture Frame 8 Inch WiFi Digital Photo Frame IPS HD Touch Screen Smart Cloud Photo Frame with 8GB Storage, Auto-Rotate, Easy Setup to Share Photos or Videos Remotely via AiMOR APP for only $69.99. 
【GIFT THE BEST PHOTO FRAME FOR YOUR LOVED ONES】: Order an Anna Bella digital picture frame and preload with memorable photos or meaningful videos with funny captions, this is sure to be a heart-warming surprise for your grand-parents, parents or anyone who would like to share important moments in your family. Anyone in the fam can send photos to the same digital picture frame. A perfect gift option for birthdays, weddings, graduations, family gatherings and many other occasions.

【EXTRAORDINARY PICTURE QUALITY】: The 1280*800 resolution ensure our smart frame of a stunning, clear image and provides you an extraordinary visual experience from full angles. The IPS technology enables you to view your most cherished moments with wide viewing angle and accurate color reproduction. The HD touch screen of Anna bella digital photo frame makes it more convenient and easy to setup and use. With just one touch to share your memorable moments and add a caption or a funny emoj for each photo or each video you shared, make the sharing fun and fast.

【WIRELESS SHARING VIA APP】: App "AiMOR" can work on both Android & iOS phones. You can download it from Google play or App store and connect it with your Anna Bella WiFi digital picture frame. Once done, you are allowed to share photos or short videos (Up to 15sec.) with your loved ones via App for lifetime with zero subscription fee. This electronic picture frame has a variety of customized settings to meet kinds of your needs, such as slideshow, timer, zoom & crop, sleep mode and more!

【AUTO-ROTATE AND LARGE STORAGE】: With the auto-rotate function of Anna Bella digital picture frame, you can place the WiFi digital picture frame in either portrait or landscape mode, and it will automatically rotate photos to adjust the direction to fits the frame perfectly. The 8GB memory enables you to share 20,000+ photos with zero subscription fees.

【360 DAYS LIMITED WARRANTY】: The Anna Bella factory has strict standards for all stages of production to ensure the quality of our digital picture frames. Each digital photo frame has been subjected to 200 hours of machine aging tests before shipment, guaranteeing that each digital picture frame is operating flawlessly before delivery. One-year limited warranty means we've got you covered! Any problems about our digital picture frame, please contact us for an easy solution or a fast replacement!
This post contains affiliate links.