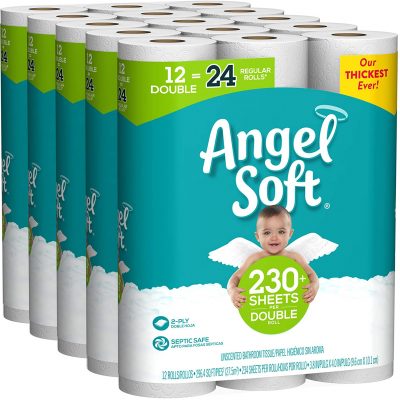 It's not a mirage! Angel Soft is in stock! Click here to score Angel Soft Toilet Paper, 60 Double Rolls, 60 = 120 Regular Rolls, Bath Tissue, 5 Packs of 12 Rolls only $28.19! Each double roll has 2-ply sheets and is designed to fit in standard bathroom toilet paper holders. One double roll regular rolls, so you won't have change rolls as often. Angel Soft is safe for use in standard sewer and septic systems, breaking down easily after flushing for a hassle-free use.
Angel soft toilet paper delivers softness and strength at a good value

Each double bath tissue roll contains 230+ 2-ply sheets

Quality toilet paper for the whole family at a price that won't break the bank

Flushable and safe for standard septic and sewer systems

Includes 60 double rolls of classic white toilet paper

Try long-lasting Mega Rolls today—featuring 45% more sheets than our Double Rolls

Looking for a roll that lasts & lasts? Try Mega Rolls with 195 MORE sheets per roll than our Double Rolls.
Remember, Amazon prices can change at any time.
This post contains affiliate links.