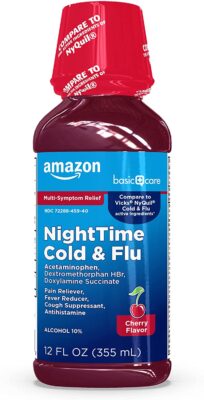 Don't suffer through cold and flu symptoms. Get the relief you need with a maximum strength product, designed to help you manage the unpleasant symptoms of a cold or flu. Right now, get Amazon Basic Care Nighttime Cold and Flu Relief, Pain Reliever, Night Time Cherry, 12 Fl.Oz for only $4.99.
ACTIVE INGREDIENTS: Active ingredients are Acetaminophen 650 mg, Dextromethorphan HBr 30 mg, and Doxylamine succinate, 12.5 mg. Compare to the active ingredients of Vicks NyQuil Cold & Flu

RELIEVES COLD & FLU SYMPTOMS: Amazon Basic Care Nighttime Cold & Flu Relief provides multi-symptom relief by helping with common symptoms such as aches, fever, cough, sneezing and runny nose

NIGHTTIME COLD AND FLU RELIEF: Amazon Basic Care Nighttime Cold and Flu Relief relieves cold and flu symptoms so you can rest through the night.

EFFECTIVE: Acts as a pain reliever, fever reducer, cough suppressant and antihistamine.

GLUTEN FREE: This product is Gluten Free. Does not contain Pseudoephedrine; contains 10% ALCOHOL.
Remember, Amazon prices can change at any time.
This post contains affiliate links.