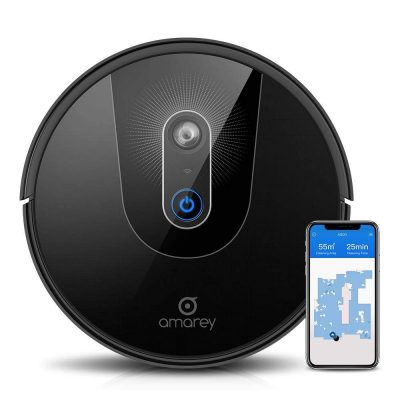 Amarey A900 is a new version intelligent robotic vacuum cleaner, containing a smart navigation sensor with visual mapping technology. This robotic vacuum cleaner can accurately map your place and generate the optimal cleaning path. With smart APP control, you can start it to work at any time wherever you are and schedule multiple modes as you wish. Get the Amarey Robot Vacuum for only $259.99 today!
ULTRA EFFICIENT MAPPING: Integrated with 145°navigation sensor, A900 robot vacuum can map your home accurately and calculate the optimal cleaning path without a missing spot. Speed up 30% cleaning time than other regular vacuums.

SMART APP CONTROL: With APP control and Alexa supported, A900 robotic vacuum can be easily controlled on your phone including clean modes, schedule, map display, suction adjustment.

AUTO ADJUST SUCTION: A900 robot vacuum cleaner can auto-adjust the suction power when working on carpet. It can give your carpet a deep & thoroughly clean. With 1400 Pa Suction Power, this robot vacuum is best for removing pet hair and any particle.

BOUNDARY STRIP: Equipped with smart sensor, this robotic vacuum will detect the boundary strip you set and keep away from certain area. It allows you to set up custom cleaning boundaries and this smart robot vacuum will not go across the cleaning zone.

SELF-CHARGING: This robotic vacuum can automatically return to the charging dock, if cleaning was not completed before recharge, A900 robot vacuum will continue from where it left off.
This post contains affiliate links.