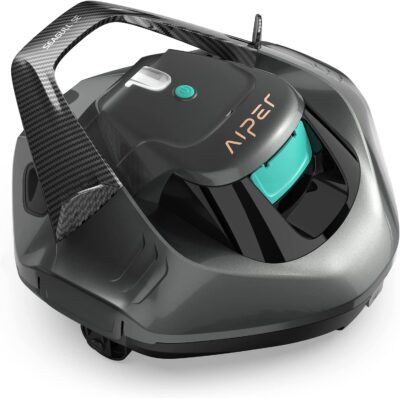 While other pool cleaners are still tethered to electrical outlets, the Seagull Series is completely cordless!
Committed to providing pool owners with smart, simple and hassle-free pool cleaning solutions, Aiper is helping people everywhere reclaim their summer days and enjoy their pool, not worry about cleaning them.
Clean Smarter. Live Intelligently with Aiper. Click here for the Aiper (2023 Upgrade) Cordless Robotic Pool Cleaner, Pool Vacuum Lasts 90 Mins, LED Indicator, Self-Parking, Ideal for Above/In-Ground Flat Pools up to 40 Feet; it's only $199.99!
CORDLESS & EASY TO USE: No need longer to connect a power cable or to deal with messy pool hoses. The Seagull SE is completely cordless and hassle-free. Simply power the unit on and drop it directly into the water. Robot will perform its duties automatically.

FAST CHARGING: With its large capacity battery that takes only 2.5 hours to fully charge, it lasts up to 90 mins ideal for round above-ground pools (up to 33′ diameter), and in-ground FLAT BOTTOM pools (up to 40′ X 20′).

EFFICIENT CLEANING: Featuring powerful dual-drive motors, the Seagull SE draws in most kinds of foreign matter from leaves, to insects, dirt, debris, and stones – all with ease. The unit also features two independent brushes, ensuring a thorough cleaning of your pool.

SELF-PARKING: Adopting self-parking smart technology, Aiper Robotic Cleaner stops near the pool wall when the battery is low for easy retrieval. Simply use the included hook to remove it from the pool without getting yourself wet.

LED INDICATOR: Equipped with 4 LED 3-color lights. Visual design makes it easy to know the battery life and the machine status. Comes with a 1-year warranty and worry-free customer service. Let your robot do the dirty work, get your weekends back!
This post contains affiliate links.