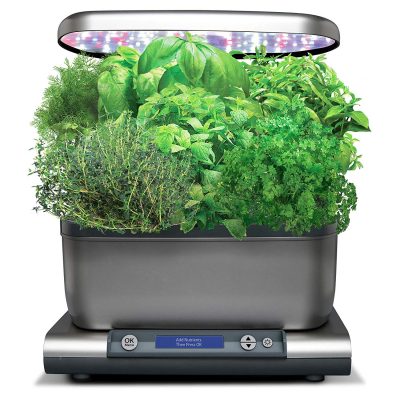 This is another item on my wish list! Imagine fresh herbs & vegetables grown in your home, year-round. With the Miracle-Grow AeroGarden Harvest you can grow fresh herbs, vegetables, salad greens, flowers & more! This smart countertop garden uses water & patented nutrients to naturally grow plants… no herbicides, no pesticides, non-GMO. It's natural goodness right at your fingertips. The AeroGarden Harvest Grey is only $79.95 today!

The easiest way to grow fresh herbs and vegetables all Year Round right where you use them most – in the kitchen!

No soil, no mess, no green thumb required. Grow up to 6 plants at once in a 15% larger reservoir vs. Other harvest gardens. Water less and enjoy more.

The full spectrum, automated LED grow light gives plants what they need to grow strong & healthy. The 25 watts are 25% more powerful than other harvest models, tuned for plants, and costs just pennies per day

The LCD control takes the guesswork out of growing by reminding you when to add water and plant food. With this model, take full control of your garden with push button on/off settings and easy to customize light timer.

Grow a delicious variety of popular cooking herbs with the included Gourmet herbs seed kit. Fresh basil, Mint, Dill, Thyme, and Parsley will be yours to harvest in a matter of weeks
This post contains affiliate links.