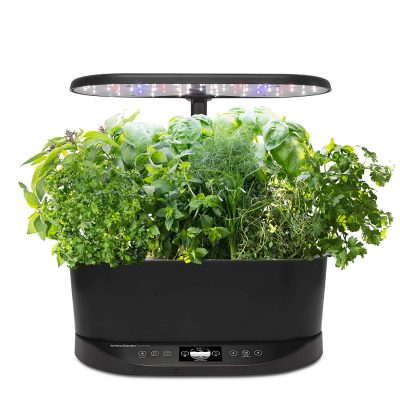 AeroGarden Mission: To bring the magic of gardening in-home all year-round, and to inspire and enable people to enhance their food, their homes, and their lives through a simple and daily connection to what they grow. Get the AeroGarden Bounty Basic-Black Indoor Garden for only $159.95. That's a 44% savings today only!
THE ALL NEW BOUNTY BASIC – Perfect for a variety of BIG harvests (herbs, salads, tomatoes, peppers & more).Stay in complete control of your garden using the new high-resolution control panel and keep plants thriving while you're away with the new Vacation Mode feature.Up your garden game and join the Bounty family at an affordable price.

IN-HOME GARDEN SYSTEM – Home grown freshness & flavor right at your fingertips 365 days a year!Grow fresh herbs & veggies right on your kitchen countertop with this indoor herb garden.

NO SOIL, NO MESS – Plants grow in water with this hydroponic growing system.Grow up to 9 plants, up to 24″ tall in your indoor garden.Just drop in the non-GMO, pre-seeded pods and watch them grow.Sprouts in days, harvests in weeks and lasts for months with a 100% germination guarantee.

THE WORLD'S LEADING COUNTERTOP GARDEN – Energy efficient 30 watt LED Grow Lights deliver the perfect spectrum for fast growth & big harvests.Smart garden technology automatically turns lights on & off and reminds you when to add water and liquid plant food.

INCLUDES EVERYTHING YOU NEED TO GROW – 9-Pod Gourmet Herb Seed Pod Kit with Genovese Basil (x2), Thai Basil, Curly Parsley, Italian Parsley, Thyme, Chives Dill, Mint and nurtured by our specially formulated Miracle-Gro liquid plant food, enough for a full season of growth.All natural & non-GMO.
This post contains affiliate links.