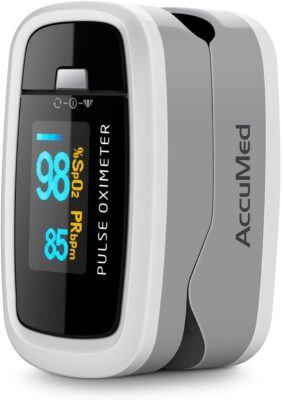 Oxygen is essential to life and there are times when we need to monitor its level in our blood to detect if our body is functioning normally. The AccuMed line of health products features a Pulse Oximeter – a device designed to provide an accurate reading of your blood oxygen level and pulse rate from your fingertip in as little as eight seconds. Snag this AccuMed CMS-50D1 Fingertip Pulse Oximeter Blood Oxygen Sensor SpO2 for Sports and Aviation. Portable and Lightweight with LED Display, 2 AAA Batteries, Lanyard and Travel Case (White) for only $19.99 for a limited time!
ACCURATE OXYGEN SATURATION AND PULSE RATE READINGS IN ONE DEVICE: The Fingertip Pulse Oximeter fits all finger sizes from kids above four years old to adults as it measures the level of oxygen in the blood and reads the pulse rate in just eight to ten seconds. It is crucial to use the device in a stationary position and not while in motion for precise readings.

LOW POWER CONSUMPTION: Equipped with two AAA batteries, the oximeter automatically powers off when not in use and delivers up to 20 continuous hours of battery life.

PORTABLE AND LIGHTWEIGHT: Weighing only 50 grams, every AccuMed oximeter comes in a convenient travel case that protects it from scratches when carried on its own or inside your gym bag or backpack. Attach the included lanyard to the case or directly to the oximeter for easy reach anytime.

ROTATING, CRYSTAL CLEAR LED DISPLAY: Read your oxygen saturation level and pulse rate results with remarkable clarity in portrait or landscape formats with auto rotation that detects your hand movement in the CMS50D1 models.

DESIGNED FOR HOME USE, EXERCISE OR TRAVEL: While the AccuMed Fingertip Pulse Oximeter is handy for detecting vital signs, it is not intended for medical use but rather for situations where you need to know your oxygen level before and after your workout or sports such as running, hiking or cycling, or while traveling in an aircraft.
Remember, Amazon prices can change at any time.
This post contains affiliate links.