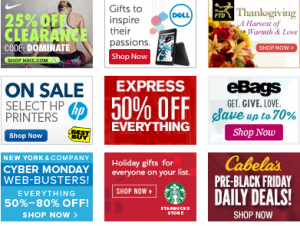 I was tasked with spending $100 on CyberMonday.com, one stop shopping for the best deals from more than 800 retailers. The site initially shared deals on one of the biggest online shopping days of the year: Cyber Monday. But today, it shares curated deals year round.
This year Cyber Monday is Dec. 1, 2014. It's a big spending day because folks check out what they want to buy in the stores on the weekend after Thanksgiving, then click to buy on Monday.
9 reasons why you should shop on CyberMonday.com
1. Think of CyberMonday.com as a curated shopping site that shows you the best deals.
When you see a deal you like, you can get a quick view of the top offers from that merchant or click straight through to the merchant site to continue your bargain hunting. In most cases, you'll be taken through to the retailer's website to complete the transaction.
2. Plug in any coupon codes, gift cards, or free shipping offers you have. In many cases, CyberMonday.com will have pointed them out to you.
3. Shop by merchant, category of retailer, free shipping only offers, or scroll down the homepage to browse their 10 hottest product deals. It's easy to find what you're looking for. And the site has already done most of the hard work to find the biggest sales.
4. There's a special section just for free shipping deals from retailers like Walmart, Macys, JC Penney, Under Armour, Home Depot, Nordstroms, and dozens more.
5. Expect up to the minute deals released on Cyber Monday, Dec. 1 this year. Keep a tab open with this site for timely updates.
6. Shop the "green deal" category for environmentally safe products.
7. A sophisticated new comparison shopping engine. Using the the search bar at the top of the homepage, type something like "wool socks" or "sweater." The platform then brings up multiple sites with prices for wool socks or sweaters and provides prices. You can sort by relevancy or price.
8. Top deals from over 800 online retailers.
9. Get sneak peaks of Cyber Monday deals by joining the email list. Folks on the list will be the first to know.