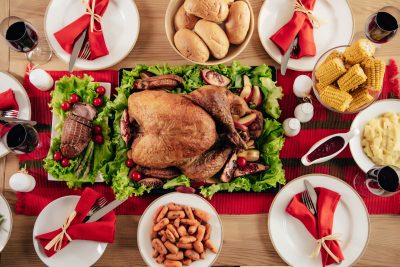 If you've ever hosted Thanksgiving, you know how quickly the costs add up – for just a single meal! The first time I cooked Thanksgiving dinner, I splashed out on fancy ingredients and specialty cookware. I learned my lesson when I totaled my spending. Now I take a far more frugal – but still delicious! – approach. Here are my 8 best tips for hosting a budget-friendly Thanksgiving.
8 Tips for Saving Money on Thanksgiving Dinner (Without Starving Your Guests!)
Start with a budget and then plan your menu. If you start with the menu (which I realize is way more fun than budgeting), you are likely to overspend. Instead, figure out what your budget will allow and then plan your meal from there.
Once you've got your menu planned, go ahead and start shopping. No need to wait until the day before Thanksgiving. Start studying the grocery store ads now and buy your ingredients when they go on sale. (Obviously, you'll want to wait on produce and meat.)
Watch for free turkeys. A lot of stores offer free turkeys when you spend a certain amount, so keep your eyes out for those offers.
Don't overbuy. Everyone loves the idea of leftovers, but in my experience a lot of it goes to waste. If you're hosting a small group, try cooking just a turkey breast instead of the whole bird. If you're not sure how much people will eat, try a Thanksgiving calculator to give you a better sense of how much you'll actually need.
Stick with simple recipes. For my first Thanksgiving I made a stuffing recipe that included focaccia, sausage and fennel. But I don't think anyone enjoyed it more than the more traditional stuffing I make now. It's Thanksgiving – people want the classics. So choose recipes that use fewer and more conventional ingredients.
Keep appetizers to a minimum. You're spending a lot of time on this meal; you don't want people to fill up before they're even seated at the table. A simple offering of cheese and crackers is all you really need for appetizers.
Limit alcohol to wine and beer. Liquor is a huge budget buster. So skip the mixed drinks and serve just wine and beer. (I realize this may not fly at all in some families. You know your guests best.)
Finally, when people offer to bring something, take them up on it! People don't want to show up empty handed, so go ahead and delegate. You probably have one dish you don't enjoy making (for me, it's salad), so assign that to a guest.
How are you saving money on Thanksgiving dinner? Share your tips here!