Pets give so much love – now it's time to show them how much we love them. With pet-themed Valentine's Day gifts for us and for them. (Okay the ones for them are really for us, too.) Whether you have warm, fuzzy "felines" for a cat or you think dogs are pawsome, we've got the gifts for you.
7 Hissterical Valentine's Day Gifts for You and Your Pet
1. Handmade dog hat by The Snug Pug. Love is in the air! This cozy dog hat is killing us with cuteness. You can have one custom made for your little love beast. $19.44.
2. Lil Bub LUB YOU shirt. Treat yourself to this adorable tee featuring the Internet's cutest kitty, Lil Bub. Comes in Unisex (pictured) or Women' sizes. $20.00. There's lots of other great merchandise, too, including Valentine's cards for $7.00.
3. I Could Chew on This book. This New York Times bestseller by author Francesco Marciuliano will have dog lovers laughing out loud at its brilliantly funny poems. Available at bookstores, including Amazon. (Show your love by using Amazon Smile – a portion of your purchase will go to the charity of your choice.)
4. Cats on the Internet necklace. The purrfect gift for that special someone (you?) who can't get enough online cat videos. The pendant is laser cut mirror acrylic, and measures 0.9″ x 0.7″. The 16″ cable chain is made of gold plated copper, which is lead and nickel free with a spring clasp. Comes in a cute box … perfect for gifting or keeping! $18.00. By Supah.
5. Tiny Valentine Hat. For frogs, toads, bearded dragons, guinea pigs, lizards, hamsters, gerbils, birds "and other little critters." How cute is this? And for only $4.00, it's a steal. By Fancihorse.
6. Pet Bandana. For either a dog or cat. Let your pet show his love with this clever "I Chews You" scarf in the size of your choice. From BWPetwear. $10.48.
7. Glitter Kitty Heart Necklace. "This darling kittens glitter pendant with candy hearts inside is a heart shaped gorgeous resin pendant. This heart necklace is stunning & has so much dazzling red glitter & heart shaped candies mixed throughout it! So cute it hurts!" From isewcute. $22.50.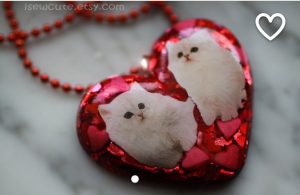 How will you show your pets your love this Valentine's Day?