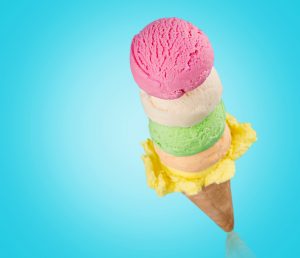 It's May, which means hot summer days are just around the corner. One sure-fire way to cool down is with a frozen treat. High-end ice creams and sorbets can be a little pricey, not to mention sugary and fattening. So we've put together a list of easy, affordable DIY ice cream recipes featuring healthy, low-cal ingredients like real fruit and coconut milk. Good for you and good for the kids. And best of all – no ice cream machine needed!
Here are 7 easy and healthy ice cream recipes.
1. Roasted banana coconut ice cream. Roxana's Home Baking shares this recipe which will allow you to feel like you're indulging – without the added calories and fat. Ingredients needed: overripe bananas and a coconut/almond milk substitute. Quick, easy, delicious.
2. Orange creamsicle ice cream. This recipe, by Super Healthy Kids, calls for only two ingredients: fresh oranges and coconut milk – the kind in a can that you might use in a Thai recipe. Well, I learned the heard way that this kind of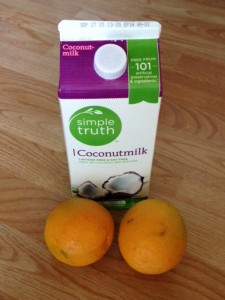 coconut milk can actually go bad and when it does, it tastes like soap! Ack! So I reached into my refrigerator and grabbed the more "drinkable" kind of coconut milk (available in your dairy case) and used that, instead. The recipe recommends a Blendtec blender, so I was worried that my wimpy, cheapy blender wouldn't do the trick, but it was fine. All in all, the recipe was a success, even with my ingredient substitution.
3. Banana chocolate ice cream. Another recipe that calls for only two ingredients. You guessed it – bananas and chocolate (cocoa powder). Because I really love chocolate, I more than tripled the amount of chocolate that the recipe called for, and I would recommend you do the same! From Brooklyn Salt. Creamy and dairy-free!
4. Banana berry soft serve. From Healthy Happy Life. What you need: berries, bananas and soy milk (or another non-dairy milk alternative). Vegan and guilt-free, plus a great way to use up those spotted bananas.
5. Nutella banana ice cream. This mouth-watering treat is made with bananas and Nutella – that's it. Blend, freeze and serve. From The Kitchn.
6. One-ingredient banana ice cream. Easy, healthy, low-cal and perfect for a hot day! Also from The Kitchn.
7. Five minute strawberry banana ice cream. This recipe, from The Slow Roasted Italian, calls for bananas, strawberries and a tiny amount of sugar or powdered stevia. Call me when it's ready!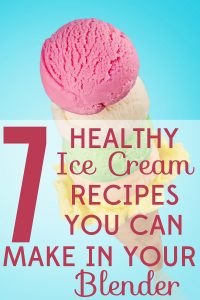 Do you have a favorite ice cream recipe?