If you're looking for a book to give as a Christmas or Chanukah present, I scanned my brain for every book I've read in the past year and sifted out the winners. I included fiction and non-fiction books to give you gift ideas. What good books have you read lately?
My top book picks for gifts

Just finished this new book by Jeff Hobbs, who was the roommate of Robert Peace at Yale. Intensively researched and well written, this book takes a sensitive yet honest look at the forces of family, culture, and education in shaping one man's tragic life. The entire time I read this book I tried to imagine Robert "Shawn" Peace forcing a better destiny for himself. It's that kind of book – you root for the characters because you care. Hardcover $16, Kindle $11. Buy it now
.
This novel weaves rich history with intense personal narratives as they influence and are changed by a single book. I found this book extremely powerful and read it in about a week. The characters still live in my head. Great pic for anyone who loves historical fiction! Averages 4 stars from 757 reviews! Paperback and Kindle about $9. Buy it now.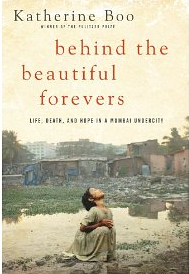 Pulitzer Prize-winning author Katherine Boo's sensitive and brilliant book steps into the lives of a handful of people living in a Mumbai slum. She weaves their stories together and, over several years, you see just how heartbreaking their hopeful lives are. Don't be scared off by the poverty. This book is full of humanity. Hardcover $16, paperback $9, Kindle is $8.50. Buy it now
.
Laugh-out-loud funny best describes this irreverent take on parenting from a toddler's perspective. My favorite line from the book, and I'll paraphrase because I already returned it to the library, is: If you love someone, accept them as they are, pants or no pants. This quick read also addresses "Why toddler beds are OUT and letting your child sleep on the diagonal in your bed is IN" and "The best way to apologize to your toddler for all of those Pinterest casseroles." Perfect gift for anyone with a child 4 years old or younger. Paperback $12, Kindle $10. Buy it now.
A fascinating bunch of case studies from author Malcolm Gladwell that look at why some people are successful and others are not. A lot of it has to do with circumstances out of our control – when we were born and what opportunities landed in our laps. Of course, extremely hard work is part of the formula, too. A quick read that makes for great conversation. Paperback $10, Kindle $9. Buy it now.
I'm not an architectural buff or fan of Frank Lloyd Wright (not that I dislike his style, either) and I found this book incredibly compelling. The author does a marvelous job of weaving the personal stories of Frank Lloyd Wright and his lover into a terrifying and hopeful account of their time together. You will be shocked by the ending. New York Times bestseller. Paperback $12, Kindle $8. Buy it now.
If you aren't sure how to get your kids talking, you need this book. It is chock full of perplexing, complex questions that growing minds will soak up. Intended for kids 10-15 years old, especially those who are wrestling with the ethical dilemmas of adulthood. Here's one sample question: If there were one piece of chocolate left in the world, would you share it with your best friend or your sibling? Here's another situation up for debate: Is it ok to copy music CDs from a friend? What about copying five MP3 files from an online file sharing service? What if you copied 5,000 files? The Amazon page gives you a deep look at several of the ethical dilemmas the author poses, so you know exactly what you are buying. Paperback and Kindle about $10. Buy it now.
What good books have you read lately?