It's that time of year again, when you feel yourself overheating. You hit the Starbucks drive-through, get yourself a Refresher and a cake-pop… and somehow it's cost you more than five dollars. Well, hang on to your cash this summer as you put our Starbucks drink recipes to work for you.
6 Starbucks Summer Drink Recipes
1. Very Berry Hibiscus Refresher. Love this drink – but not the price! I found a great recipe swap online. What you need: water, sugar, ginger, hibiscus tea bags, green tea bags and mixed berries- blueberries, raspberries, blackberries etc. Check out Beauty and the Beets for the complete recipe.
2. Iced Passion Tea. I used to order this all the time from Starbucks because it's very refreshing and has no calories. Then it dawned on me that I could make it at home for pennies! All you need is Tazo passion tea bags. (Hint: they are more expensive if you buy the box at Starbucks!) I usually ask them to add 2 Splenda, so I now do that at home. You can add whatever sweetener you prefer, or go without if that's how you like it.
3. Passion Tea Lemonade Recipe. This is another easy recipe. All you need: 2 Tazo passion tea bags, sugar, vanilla, lemonade and water. Find the recipe at Cincy Shopper.
4. Cool Lime Refresher. Indulge without the guilt when you make your own for a fraction of the price ( you can even afford to upgrade to a Venti)! What you need: cucumbers, fresh mint leaves, sugar, green bean coffee powder (optional), fresh squeezed limes, white grape juice, water. You'll find the recipe from Beauty and the Beets.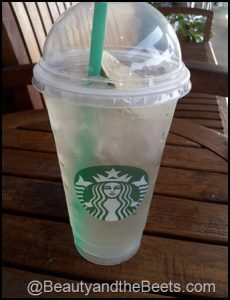 5. Mocha Cookie Crumble Frappucino. If you prefer a more desserty drink, this Oreo-style cookie drink is sure to satisfy your sweet tooth. Ingredients needed: I full tray of frozen coffee ice cubes, milk, sugar, Hershey's Chocolate Syrup, mini semi-sweet chocolate chips, crushed Oreo Cookies and chocolate whipped cream. You can find the recipe at Sprinkle Some Fun.
6. Mocha Coconut Frappuccino. Looking for the taste but not the fat and calories? Hungry Girl has just the recipe for you! Swap 400 calories for a mere 120. What you need: shredded sweetened coconut, unsweetened cocoa powder, fat-free non-dairy powdered creamer (like the kind by Coffee-mate), instant coffee granules, mini semi-sweet chocolate chips, no-calorie sweetener packets (like Splenda or Truvia), coconut extract, crushed ice, Fat Free Reddi-wip, light chocolate syrup. See link for complete recipe.
What are your favorite Starbucks Summer Drinks?