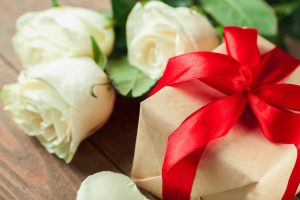 Yesterday was my 17th wedding anniversary. This got me thinking about all the things we registered for… and how many we still do and don't have. My husband and I took a trip down memory lane, remembering what items we received and which ones are still useful all these years later.
Here are 6 items you shouldn't register for… and 6 you should.
Whether this is your first marriage or second, whether or not you both come with households full of items, chances are you will still have a wedding registry. Old items need to be replaced or updated and it's a chance to start fresh together. So what items do you really need to register for?
17 years later, here's what we realized we didn't need:
1. Don't buy any mugs, plates, dishes or other kitchenware if it can't go in the dishwasher or microwave. Seriously. That Wilton pewter dining set we had was SO impractical. Especially if you're planning on having kids somewhere down the line, having dishware that needs to be washed by hand is the equivalent of having to take all your clothes to the dry cleaner instead of throwing it in your washing machine.
2. Forget gimmicky kitchen gadgets. I registered for a cookie press at Bed, Bath & Beyond. Guess what – 17 years later, it's still in the box. So if you think that cake pop maker, fondue set, chocolate fountain or hot dog cooker would be fun to add to your registry, ask yourself: How many times will I use this? Will it lose its novelty after one or two times? Which is not to say that all kitchen gadgets are aren't useful. I still use the egg cooker we got as a wedding gift and it makes perfect eggs every time.
3. Pretty photo albums that require photo squares. I completely fell in love with the handmade photo album we registered for. It is so stunning. But unlike the photo albums that were offered by our photographer, or the make-them-yourself Shutterfly versions, this gorgeous photo album was old school – meaning we had to go out and buy photo squares. Which are almost impossible to align properly. We wound up having to hire someone to put all our wedding photos in… and they still sometimes fall out. Tip: Don't be sentimental if it's not practical.
4. Fancy dining ware won't get used much. Unless you really love to cook and entertain (I don't), do you really need a gravy boat? Or expensive crystal?
5. Vases. Seriously, how many do you need?
6. Photo frames. Only pick out your favorites. The others will just sit around gathering dust.
And what we really used/could've used:
1. High quality towels. You will always use towels and they won't last forever. Pick out the ones that you really love. The most plush, soft, absorbant ones you could ever want. Nevermind the price – one person doesn't need to buy the entire set for you. Better quality towels are a treat and are more opt to stand the test of time.
2. Good quality sheets. Same as above. We no longer have the same sheets or towels we were given 17 years ago, but the better quality ones last longer and feel better, too.
3. High-end kitchen gadgets. If you really want that $400 BlendTec blender or a colorful KitchenAid mixer, put it on your registry. The cheap blender I got for our wedding has long since bit the dust. I don't have a high-end blender, but if people I loved were willing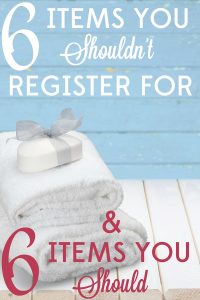 to chip in on one as a group, I would gladly accept! When it comes to kitchen gadgets you will use frequently, the inexpensive, no-name brands are apt to wear out sooner.
4. Knife set. We still have the one we got as a wedding gift and although I'm not a hardcore cook, it's been put to a lot of use. And it's not something I would've ever thought to buy for myself.
5. Everyday cooking ware. Love to bake? Do a little research or ask a salesperson and pick out some good quality baking sheets, mixing bowls, etc. We still have the spice racks we got as a wedding gift, along with the mixing bowls. (The cookie sheets could stand to be replaced.)
6. Tools. These may sound like a dull gift, but my husband was thrilled to register at Home Depot. We were gifted a power drill, drill set and tool set, which we have come in useful over the years.
What items are you registering for?