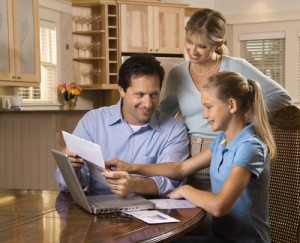 This past year I graduated college debt free…which makes me an anomaly among my friends. Many of my friends owe more than $50,000 (my boyfriend has more than $150,000 in college debt!) and have no strategy for paying it back. Many of them know almost nothing about how to manage their finances and are unaware of how costly high interest rates are! I was lucky enough to have a father who drilled me on the importance of staying out of debt AND gave me the tools to do so.
6 lessons to stay out of debt
1) What is interest? Interest can be good (for savings) or bad (for loans/credit). Educating children about the effects of interest rates can help them avoid debt in the future. Taking out high interest rate loans to pay for college was one of the most common mistakes among my friends. Many were unaware how interest really worked and because of this didn't look into other options when presented with high interest rate loans. An easy way to avoid this is by educating children on the subject. Use a loan calculator to explain how interest can work negatively. For example, if you took out a $20,000 loan with a 6.8% interest rate and had a 10 year plan paying the minimum monthly payment of $230.16 would result in paying an extra $7,619.31! Use a compound calculator to explain how interest can work positively. For example, $2,000 in savings left to grow for 10 years with a 5% interest rate would turn into $3,257.79. Making children aware of the consequences/benefits of interest will help them make responsible choices in the future.
2) Help them choose a credit card – My Dad set me up with a credit card in high school. While he paid the balance for me (it only had a $100 limit at the time!) he sat me down and he explained why he'd chosen the card over others. He explained the rewards program, the interest rate, and how this card could be linked to his account. Explaining why he chose the card made me aware of what to look for in a "good" credit card. I have yet to be fooled (yay!).
3) Explain how to use credit – When you get your first credit card it seems like it's free money…until the bill comes! My dad taught me to think of credit as cash. If you don't have the money in the bank you shouldn't be charging it. He encouraged us to use credit frugally and pay pack the entire balance every month. I've been doing this ever since and I've never regretted it. Credit is a great way to earn rewards, discounts, and even cash back BUT kids need to be taught the importance of living within their means when using credit.
4) Teach them that college is an investment – I went to an in-state school because I wasn't sure what I wanted to do. While I was figuring that out (still working on it) I didn't want to rack up over $100,000 in debt by going to an expensive out of state school. College is a great experience and staying in-state isn't for everyone BUT many people don't think of college as investment. Going to a $40,000 a year school when your major's average salary is $30,000 will result in a lot of long-term debt. For this reason, shopping around and applying for financial aid and scholarships is key. College IS an investment in your future but being left with hundreds of thousands in debt you're struggling to pay back isn't a great way to start adult life.
5) Explain your money choices – Do you have a credit card? Debt? Investments? Explain to your children your financial situation and the choices you've made that got you there. Whether you're paying off debt or watching your savings grow children can learn from your mistakes and successes.
6) Educate them on investing – Every Sunday when I was younger I can remember my dad looking at the paper and checking his stocks. It was a fun game to us kids to watch them go up and down with him. It wasn't until I was older that I realized these stocks meant money! My Dad always shared the stocks he had chosen and why all of his saving weren't tied up in the stock market. He explained that there are high risk and low risk investments (Mint.org has a great risk/rewards chart!)  and having a mixture of the two is a great way to stabilize your savings. I've now invested in stocks of my own and am comfortable with investing. Investing is an area that many people shy away from but investing doesn't always have to be high risk and is a great way to increase your savings.
What do you think kids need to know to avoid debt?