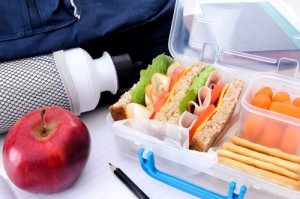 In my family we always brought a bagged lunch to school. Not only was this a cheaper option, but the food my mom made was MUCH better than anything you could find in the school cafeteria. Now, my little brother and nephew both prefer to take a lunch to school as well.  Here are a few easy ways to save on school lunches.
1. Buy In Bulk and Divide at Home
It's so easy to grab a few single-serving snacks and throw them into a lunch bag BUT this convenience can cost you. Here's one example:
The single serving bags contain a total of 15.6 oz. That means you're paying almost DOUBLE the price for LESS chips. That's crazy! Instead, buy the large size and put into re-useable containers or Ziploc bags. You can do the same with carrot sticks, dried fruits, cookies, etc.
2. Make Use of Leftovers
Leftovers were some of my favorite lunches as a kid AND they saved my parents money! If you know your child loves one of your meals, then make extra for them to take the next day. Have leftover rotisserie chicken? Make chicken salad sandwiches. Soups are also a really great inexpensive meal that can easily be taken in a thermos.
3. Say No to Juice Boxes
Juice Boxes don't seem expensive but they can add up. Instead invest in a re-useable water bottle. These allow you to bring lower cost options such as juice bought in bulk, Crystal Light (my personal favorite), other drink mixes, water, or even tea. Yum!
These popular Thermos Funtainers cost anywhere from $10-$20 but can be used time and again. I had the same one throughout high school. The savings will cover the cost!
4. Only Include What Will Be Eaten
My mom used to put these healthy crackers in my lunch. I hated them and would always end up just taking them back home with me or throwing them out. Prevent waste by trying out new foods in small purchases and keeping track of what everyone eats. Don't buy in bulk until you know your children will eat it!
5 Check Sales Before Shopping and Menu Plan
Check sales online at your local grocery store before shopping. Then, build your grocery list and create a menu plan. Create the menu plan around the sale items and what you have at home. Again, make sure these items appeal to your kids. If it goes uneaten it's a waste of money even if you got it on sale!
6. Don't Use Ice Packs
Instead of buying expensive ice packs, freeze a small water bottle instead.The frozen drink will keep their lunch cold and should thaw enough to drink by lunch time. Sweet!
How do you save on school lunches?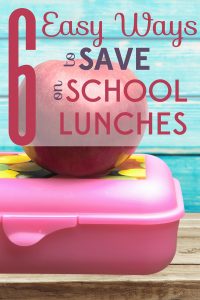 This post contains affiliate links.