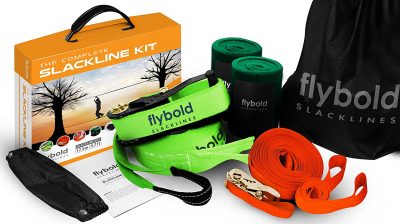 This is a great deal you don't want to miss, especially if you are a parent. Click here to save 55% on flybold Slackline and Ninja Obstacle Kits today! Our slackline is probably the best budget outdoor toy we've ever purchased! My older girls especially love walking the slackline and making up routines to perform with increasingly difficult moves. It's also been popular in the past when we've had other families over. (It was a really big hit during the girls' 12th birthday, which was The Greatest Showman Theme). Get the flybold Slackline Kit with Training Line Tree Protectors Ratchet Protectors Arm Trainer 57 feet Easy Set up Instruction Booklet and Carry Bag Complete Set Outdoor Fun for Family Adults Children Kids for only $33.99. 
INCLUDES MORE THAN ANY OTHER SLACKLINES. INCREDIBLE VALUE! 1 Main line 2 Training line 3 Ratchet for main line 4 Ratchet for training line 5 Arm Trainer 6 Ratchet protector worth $5 7 Tree protectors worth $15 8 Carry bag 9 Instruction manual 10 Gift box packing. Phew!

LONGER WALKING LINE. TRAINING LINE and ARM TRAINERS: Longer Walking Line of 57 ft, instead of standard 50 ft Training Line for beginners to develop balance before walking without support Arm Trainer to develop correct arm position and better balance

SAFE. SOLID. SUPERIOR Main Slackline with 5T break load (safely carries 300 lbs) TWIN GEAR ratchets for better pulling strength and safety Extra wide TREE PROTECTORS (5 feet) to protect trees and line from abrasion RATCHET PROTECTOR to protect your feet while on the slack line

FOR HEALTH AND FUN WITH KIDS, FAMILY AND FRIENDS! Perfect for backyard family fun, get togethers, summer camping, parties, park and beach trips. A fun and easy way to improve your core strength, posture, balance, coordination and focus

BEGINNER THRO ADVANCED. EASY SET UP: Whether you are a beginner slacklining for fun and recreation, or a pro athlete looking to improve strength and balance. EASY SET UP in just a matter of minutes. Slackline Kit includes a "step by step" visual instruction booklet
This post contains affiliate links.