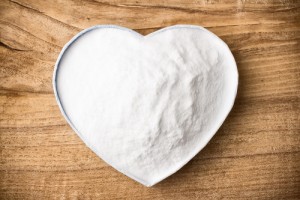 Baking soda is cheap, versatile, and natural. What more could you ask for? We all know that if you stick a box in your fridge, that it can eliminate odors. That it can be used in cat boxes. Or to soothe an acidic stomach. But what about the ways you've never used baking soda?
Baking soda: What is it good for?
Add 2 TBPS baking soda to the water in your humidifier to eliminate that "musty smell."
Clean smoke-blackened walls or ceilings with a wet rag and baking soda. (Or better yet – give up smoking!)
Eliminate that "pee smell" from mattresses – poor baking soda over the soiled spot, then spray vinegar over it. Clean with a wet dry vac.
Remove fishy, oniony or garlicky smells from your hands with a mixture of baking soda, liquid soap and water.
Add a TSP of baking soda to your shampoo bottle to help remove build-up in your hair.
Clean thermoses and flasks by filling them with hot water, 2-3TBPs of baking soda and letting them soak overnight.
Use baking soda to scrub pots and pans if you've burned something at the bottom.
For tougher burned pot and pain stains, boil 2 inches of water in the burnt pan, turn off the heat, add 1/2 cup baking soda and let the pan soak overnight.
To help rosacea, use a mixture of water and baking soda to relieve blotchiness and bumps.
Get rid of unsightly stains in children's potties.
Eliminate "poop stains" in babies' clothes without the use of harsh chemicals.
Baking soda gets rid of rust – just make a paste with water and scrub off the rust!
A mixture of baking soda and water helps dry out blackheads.
Clean out your coffeepot by running hot water and baking soda through a full cycle, then with warm water.
Christmas tree sap on the carpet? A paste of baking soda and water will help absorb the mess. Vacuum up any powder.
Remove wine or grease stains from your carpet with a sprinkling of baking soda. Leave on until the stain is absorbed, then vacuum.
Skip store-bought window cleaners – use baking soda on a wet sponge to make dirty windows sparkly clean.
Add a small amount of baking soda to your vacuum cleaner bag to fight odor.
Snow and ice? Skip harsh rock salt – sprinkle baking soda to provide traction and melt ice and snow.
Soothe bee stings with a paste of baking soda and water.
Erase crayon, ink and pencil from painted walls by sprinkling baking soda on a wet sponge.
Clean cutting boards and prevent contamination by spreading baking soda over the surface, sprinkling with vinegar, soak, then rinse.
Remove grease stains from pots and bakeware by sprinkling them with 1/2 cup baking soda, 1/2 cup vinegar, then let them soak overnight.
Deodorize trash cans but sprinkling baking soda on the bottom, before putting in a liner.
Remove pet odors from carpets by sprinkling baking soda on stains, letting them set, then vacuuming up.
Freshen your dishwasher by adding 1/2 box baking soda and running the dishwasher through the rinse cycle.
Clean your blender by filling it half-full of water, adding 1 TSP baking soda and 1 drop of detergent. Blend.
Repel ants by pouring baking soda on their trails and into their holes.
Rid your windshields of dead insects by scrubbing with baking soda and water.
Clean cloth diapers by soaking them in a solution of 1/2 cup baking soda and 2 quarts water.
Scrub your mildewy shower curtains by sprinkling baking soda on them and scrubbing.
Degrease and clean your BBQ grill with a paste of baking soda and water and scrub. Let the mixture set for 15 minutes or longer, then scrub and wipe away.
Baking soda on a damp sponge can be used to make a glass stove shine.
Get rid of ugly coffee mug stains with a scrub of baking soda and water.
Clean brushes and combs with a mixture of warm water and 1 TSP baking soda. Rinse and air dry.
Make a bathroom "soft scrub" by replacing Comet and other abrasive scrubs with baking soda.
Add 1 cup of baking soda to your next load of laundry to eliminate odors and make clothes cleaner and brighter.
Sprinkle baking soda around your pet's bowl to keep ants and bugs away.
Soak retainers and mouth guards in warm water mixed with 2 TSP baking soda.
Weeds? Sprinkle baking soda to in the cracks where weeds grow.
Use produce washes? Make your own with a mixture of baking soda and water. Scrub fruits and vegetables with this mixture and a wet sponge.
Deodorize your hamper by sprinkling baking soda on the bottom of the hamper.
Remove odors from plastic food storage containers by filling them with hot water, adding one TBSP baking soda, a few drops of liquid dish detergent, and water. Let stand, overnight if possible.
Deodorize a drain with with 1/2 cup or more of baking soda, slowly pour 1 cup of vinegar down the drain, then let set for 15 minutes. Then rinse drain with hot water.
Battle minor grease or electrical fires by dousing them with baking soda.
Freshen your breath by rinsing 1 TSP baking soda in a glass of water.
Make your own teeth-whitening toothpaste.
Clean your toilet with 1/2 cup baking soda and 1/2 cup of water.
Smooth your skin with baking soda and water for the perfect exfoliant.
Take the bitterness out of iced tea by adding a pinch to a gallon of fresh-brewed tea.
Need even more ideas? Check out Baking Soda:  Baking Soda: Over 500 Fabulous, Fun, and Frugal Uses You've Probably Never Thought Of
.
How do you use baking soda?