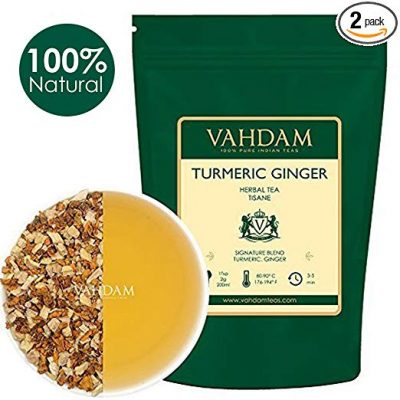 Today only, save on best selling teas and tea accessories from Amazon! Select bags of premier tea leaves, beautiful glass tea cups, or gifts sets, all at a significant discount! Prices start at only $7.95!
TURMERIC WITH GINGER – Popularly known as the 'Magic Herb', Turmeric is an anti-oxidant-rich herb widely used in India for thousands of years, primarily as a culinary spice. A rich, golden herb known to have powerful health & life-enhancing benefits. Ginger, contains Gingerol, a substance with powerful health benefits. A blend of ginger tea & turmeric tea which makes this herbal tea loose leaf a complete natural detox tea. A truly Healing, Rejuvenating & Energizing experience.

PURE INGREDIENTS – GROWN & PACKED AT SOURCE IN INDIA – Turmeric Powder, Lemongrass, Bergamot Extracts, Cinnamon, Ginger, Cardamom, Pepper. Best served with Hot Milk. The combination of Turmeric Ginger, Turmeric Citrus & Turmeric Spice in one cup

A BRAND WITH A BILLION DREAMS – Established in India by a 26-year-old, 4th generation Tea entrepreneur, Vahdam Teas is an award-winning, vertically integrated tea brand that door delivers the world's freshest tea leaves to over 83 countries, sourced directly from India's choicest tea gardens. The tea industry is one of the largest employers of manual labor in India. A successful home-grown brand helps empower millions of these tea workers in the long run.

ETHICAL, DIRECT & FAIR-TRADE- TRULY – Our innovative supply chain model ensures you get the freshest cup of tea and our farmers get a better price for their produce. 1% of our revenue is redirected towards the education of our tea growers' children. Our farmers, like any other parent, wish for their progeny to have a better life than them. We at Vahdam Teas with our social initiative, TEAch Me, simply wish to honor this aspiration.

SATISFACTION GUARANTEED – 100% MONEYBACK GUARANTEE – If you don't like the tea, we will issue a 100% REFUND immediately. No Questions Asked.
This post contains affiliate links.