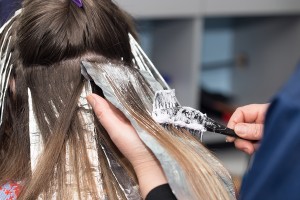 Maintaining hair color is expensive and time-consuming. That is why, with the exception of a three-month mistake of box red in college, I have not dyed my hair. Salon color treatments can range anywhere from $100-$350 and no, I am not kidding. So when I started to see some grays and decided to pull the trigger, I knew I had to make my dollars stretch as far as possible. I have found ways to make my highlights last longer – sometimes as long as three extra weeks!
Dry shampoo: Wash your hair too much with shampoo, and all of that color with float right down the drain. Try washing every other day, and use a colored dry shampoo to freshen locks, fight oil and dirt and blend root color. I have tried a lot of different dry shampoos, and my tried and true favorite is Batiste Dry Shampoo Hint of Color. It sprays on light, adds volume and blends naturally without leaving a powdery residue. I have brunette hair with lighter highlights, so a few sprays of the Light & Blonde to my roots and I just saved an extra three weeks!
Sulfate-free: When you DO shampoo, make sure your products are sulfate-free. Sulfates are components that help make beauty products lather, and one of the main chemicals that fade color. L'Oreal sulfate-free shampoos are great and under $7.
Prepare your hair: Deep condition your hair at least three days before your salon visit. According to my stylist, your hair needs to be moisturized to help the color absorb evenly. The better conditioned your hair is, the more the color will take.
Beat the heat: For the week following my color treatment, I try to let my hair air dry as much as possible. Hot tools, such as blow dryers and straighteners, speed up the process of my color fading by stripping the hair of moisture. If you must use these tools right away, dry your hair partway on low heat and make sure hair is completely dry before straightening or curling.
Beat the heat – again: As with heated hair tools, hot water can be very damaging to color treated hair. Rinse your hair with the coolest water possible to help maintain your beautifully colored tresses.
While there are many affordable at-home treatments and solutions, like using hydrogen peroxide to dye your hair, I prefer to leave it all to the professionals.
What are your tips and tricks for making salon visit last longer?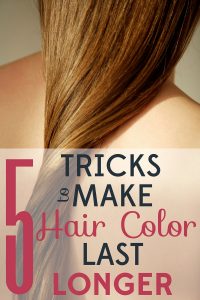 This post contains affiliate links.