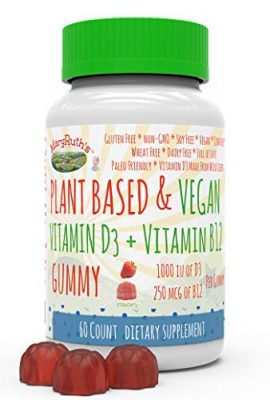 Today only, get 43%-50% off MaryRuth's Vitamins, Probiotics & Gummies. Choose from several different options as low as $11.98!
✅ VEGAN Vitamin D3 + B12 (Methylcobalamin) Gummies with DELICIOUS flavor: Strawberry! Non-GMO, Vegan, PALEO Friendly, and from Non-GMO Vegan Lichen!

✅ Non-GMO, Vegan, Gluten Free, Wheat Free, Yeast Free, Corn Free, Soy Free, Paleo Friendly and Celiac Friendly. NO Nightshades. No Gelatin. Contains: Nuts (coconut oil). NOTE: This product has both Vitamin D3 and Vitamin B12 (Methylcobalamin). Did you know that 99% of Vitamin D3 comes from Lanolin (Sheep's wool)? MaryRuth's VEGAN VITAMIN D3 comes from Non-GMO Vegan Lichen (plant).

✅ Only 5 calories per adult serving. 1000 IUs of plant-based Vitamin D3 and 250 mcg of Vitamin B12 per serving, 30-60 Day Supply.

✅ ALLERGY WARNING: We care about all our customers! Please review our ingredients (below) and the Supplement Facts chart carefully to ensure you do not have any sensitivities. Children under 12, seniors over 65, and pregnant or lactating women should always consult with a physician or healthcare professional prior to use. If you have any questions, please reach out to us.

✅ Made in a GMP compliant facility. Mother-daughter owned company. Manufacturer's Warranty, Our Happiness Guarantee: if you are not fully satisfied in any way, simply contact us for a full refund at any time. As a small family-owned company, we want all of our customers to feel like family too 🙂
This post contains affiliate links.