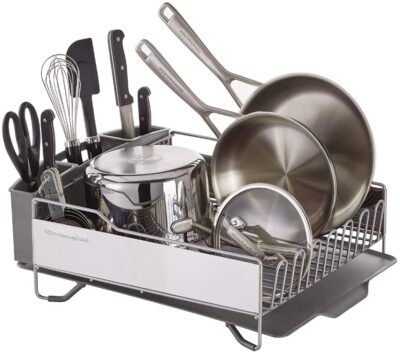 Today only, save 40% off KitchenAid Tools. The selection includes can openers, mixing bowls, a scale and more! Plus this KitchenAid Full Size Dish Rack, Light Grey is only $35.99 (a savings of $27). Keep countertops dry and organized with the Kitchenaid Large Dish Rack. This dish drying rack has features an extra large capacity that can accommodate full size pots and pans, assorted dinnerware and more! Featuring brushed, stainless steel panels with a stylish gray drain board and caddy, not only does this dish rack have a truly premium look, but will seamlessly match your kitchen decor. Brand new, this dish rack has satin-coated wires which are rust-resistant and ensure that this dish rack will be rust free. The elevated designed accommodates over-sink drying and the drain board has the perfect pitch to avoid water pooling in the rack. The removable flatware caddy, with built in dishwasher inspired handle, holds cutlery and other utensils and allows you to transport around the kitchen. Also, this dish rack features soft feet to prevent scratching countertops.
Multi-Functional: Large capacity, designed to drain over any sink or atop a drying mat on the countertop, this dish rack can handle assorted dinnerware such as plates, bowls, and cups and full sized pots and pans

High Quality: Heavy duty, satin coated, rust resistant wires secure items and soft feet keeps dish rack from scratching countertops

Easy Draining: Self draining board is designed with the perfect pitch, to avoid water pooling in the rack and is removable for easy cleaning

High capacity storage: Removable flatware Caddy, with built in, dishwasher inspired handle and adjustable compartments for cutlery and specialty items

Easy to clean: All parts are removable and easy to hand wash when needed; This dish rack comes with a 1 year hassle free replacement and lifetime limited warranty
This post contains affiliate links.