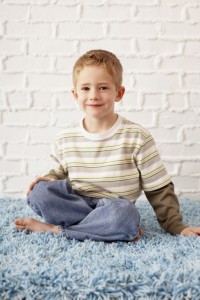 If you're looking to freshen up your home decor without spending a fortune, one of the best ways to do so is through the purchase of floor rugs. While the costs of renovating or completely redecorating rooms can add up quickly and easily blow the budget, adding or rearranging rugs instead can change the look of a home without being prohibitively expensive.
Many people leave flooring as an afterthought when finishing off a room's interior design, but in fact it can be a key decorative decision that makes all the difference to the style of a home. Whether you want to buy a shag rug to add a retro look and feel, or need a new rug to divide up a room, there are plenty of affordable options to suit all requirements and budgets.
If you're keen to update your home's style this year (without breaking the bank), read on for some top affordable tips to buying and using rugs throughout the house.
1. Shop Online
A convenient and affordable way to find an appropriate rug for your home is to shop online.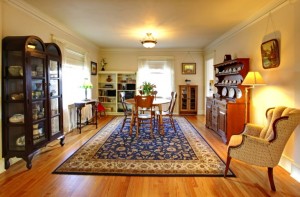 That way not only do you have a much wider choice of colors, sizes, shapes, and textures to choose from, but you can often save money by shopping around and taking advantage of sales. Many online stores provide free shipping too, so you can simply have the rug delivered straight to your door without spending time and money on driving from shop to shop in your neighborhood.
You should also be able to find rug pads online to add to your cart — these accessories help to protect the flooring in your home and also extend the life of your rug by a considerable degree.
2. Evaluate Size
One of the most important elements of choosing a new rug is finding the right size for a space. Keep in mind that rugs used in a living room will need to be quite large, while those for a child's bedroom or compact office should be kept proportionately smaller for the area.
For a living room, you can either opt for a rug that is in line with the modern oversized style (that is, where couches and other furniture are placed on top of the rug), or instead select a traditional-sized floor covering that only gets covered by a coffee table, and is surrounded by sofas instead. For the larger style, look for rugs that are at least around 8 feet by 11 feet in size. For the smaller look, search for rugs that are roughly 5 feet by 7.5 feet.
In dining areas, ensure that you purchase a rug that is large enough to accommodate pulled out dining chairs — after all, it's never fun for dinner guests to continually catch their chairs on the edge of a floor covering each time they stand up and try to move away from the table.
3. Consider Color and Texture
Also vitally important is the color and texture of a rug. If you're renting a home, or simply need to add some more oomph to an otherwise bland look, buying some colorful and textured rugs can make a huge difference to the feel of a space.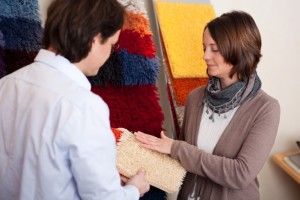 If you're purchasing a rug to go with the bold decor already in a room, you should stick with a single-color rug in a neutral shade or a hue that goes well with the existing furnishings. If instead you're starting the room's design from scratch, you can have fun choosing a rug that is as colorful and patterned as you like. From there, you can then choose furniture and accessories that will coordinate nicely with the floor covering.
Just keep in mind that if you're searching for a rug for a smaller space, darker colors can sometimes be too much for the room, while lighter shades can make the area seem larger.
Different textures on a rug also add different looks to a room. While it's something that many people don't think about enough when buying a rug, the texture can really set the tone for a space. A simple cut and looped wool rug can streamline an already busy-looking area, while a highly-textured material, such as shag or raised pile, can add dimension to a room that features simple furnishings.
When selecting the color and texture of a rug for your home, you also need to factor in the people who will be walking on it. For example, if you have young children or inside pets, you might be best to pick a darker colored rug that won't show up stains and dirt so much. Similarly, different textures can be suitable for different residents — elderly homeowners or those with limited mobility will often require rugs with a smooth texture that don't pose a tripping hazard.
4. Divide or Define a Room
Rugs are also one of the most affordable methods for defining or dividing a space. Rather than paying out for expensive renovations to add a wall in your home, utilize a rug as a room divider that doesn't create an actual physical barrier and so keeps the area light and bright. You can add a rug in a large open room to define a living or dining space, or pop one in a bedroom in order to demarcate a specific office portion of the room.
What kind of rug are you looking for?