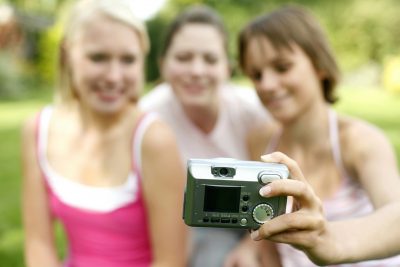 The holidays are a few months ago, but it's time to start thinking of your annual family photo. I cringe at the idea of taking photos, but it's nice to receive them from friends! Getting the perfect photo doesn't require a professional photographer or making appointments at your local department store. Below I share tips to taking your own photos just in time to get them in the mail.
The secret to getting a decent photo is a little practice, a good digital camera, and patience! Here's how to save money on your Christmas card photo.
Location – Head to a scenic place like the beach, botanical gardens, or even parks. The point is to have something that looks great, but isn't too busy looking. Went on vacation? Check through your photos to see if you find a photo you like.
If you want to take the photo in your home, you can make your own solid-color backdrop. You can keep it simple and cheap.   White butcher paper, shower curtains, fabric, and even wrapping paper can be used as backdrops.
Light – Take the photos in mid to late afternoon to avoid having the sun directly over you. You want to avoid creating shadows on the person. If you are opting for a photo inside your home, make sure you're not using florescent light bulbs for lighting. Your photo will have a yellow tinge — not a good look for anyone.
Clothing – Coordinated outfits isn't a must, but it will help the photo look cohesive and will keep the focus on the individuals and not the clothes. If you find you're self together and want to take a spare of the moment photo, that's no problem at all. Make sure you're background is clean. To many things going can make the photo seem busy.
Pose – Candid shots of kids during an activity work well as they tell a story. If you want to take a group shot, you can do the standard two row shot. Those in the back can stand and those in the front kneel. There are other options so don't limit yourself. Just make sure to follow the rule of thirds. Here's what to do: Imagine the photo space is divided into thirds both horizontally and vertically, like a tic tac toe grid and align the subject with one of the points where those lines cross. That means the subject is one third of the way "into" the picture space — from either the top or bottom, and from either the left or right. And that means the subject is not in the middle.
If you don't have the time to take your own Christmas photo, there are other cheap alternatives like getting a semi-professional to do it. Keep in mind you have to do it sooner rather than later as photography students will have a jammed packed schedule come November and December.
When do you start taking your Christmas card photos?