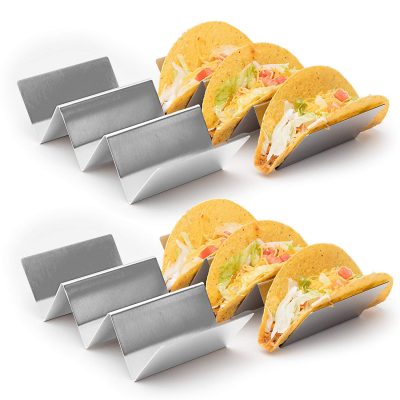 Forget the mess and stress of constantly finding ways how to assemble and serve your tacos without seeing the meat, veggies, and other fillings spill over. With our sturdy metal taco rack, you'll be all-smiles serving your version of this all-time favorite Mexican dish to your friends and family.
Our sleek and durable taco serving rack will surely make your Taco Tuesdays, weekend picnics, pool parties, and even regular meal times even more fun! Click here for the 4 Pack – Stylish Stainless Steel Taco Holder Stand, only $16.68 today!
STYLISH STAINLESS STEEL DESIGN: Upgrade your taco presentation with professional looking taco holders, designed to look as good as your tastes! Crafted with high-grade stainless steel, the stand up holders are the perfect complement to any room, dish, or dining table.

KEEPS YOUR TACOS UPRIGHT: With 3 compartments per piece, each taco stand is designed to keep your food upright and beautifully presentable. Whether you're throwing a dinner party or simply cooking for one, your delicious Mexican-style food will come and look perfectly portioned, every time.

DISHWASHER, GRILL, AND OVEN FRIENDLY: The taco rack works incredibly well as a metal baking stand, whether you're baking tacos, heating up tortillas or leftovers from your favorite local taco spot. Throw the taco holder in the oven, dishwasher, or on the grill. They're built to last with you.

VALUE SET OF 2 OR 4: Are you hungry or HUNGRY? That's the question to ask yourself when purchasing our set of taco holders which come in a value pack of 2 or 4. Each set holds up to 3 tacos each, so choose wisely!

30-DAY SATISFACTION GUARANTEE: Your happiness is our priority. If you have any issues, reach back out and we'll promise to make it right with a refund or a replacement, no questions asked.
This post contains affiliate links.