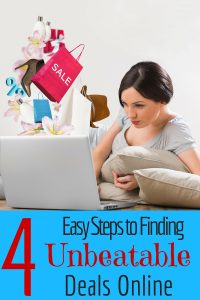 My friends are amazed by the deals I find. Sometimes that's a compliment and sometimes it means I accidentally left a clearance tag on a birthday present (yep, happened this weekend with a .30 cent price tag; thankfully my friend T is very understanding and has a good sense of humor). Some of my deals just come about through persistence (if you hit the Goodwill twice a week you will eventually find treasures). But over the years I have discovered some tricks that help me find the deals I want (and of course some I never knew I needed).
Last week, I posted an Intro to Amazon Warehouse Deals. That is definitely how I find a lot of my irresistible bargains. I tend to briefly check the warehouse multiple times a week because the prices and availability vary so much. I wanted to share a few more tips about shopping for rock bottom-prices, and reflections on when is a deal really a deal. Today's tips are make an ISO list, utilize price compare tools, create deal alerts and go in for the kill.
Make an ISO List: (ISO=internet acronym for "in search of"). I usually keep a physical list in my Bullet Journal (by the way, I love, love, LOVE this organizational method). An online wishlist might make sense too. However, for most of my ISO items, I tend to be looking for an item rather than a specific brand. When you are writing your list, think ahead, particularly in regard to seasonal items. It's March now so this is when I start to think about Back to School season, for example. My timeline may not make sense to most people, but trust me and don't argue. It's not my rule anyway, the deals call the shots. So here is how I work my list with real-life examples. My ISO list this month looked like this: A high quality pencil sharpener, Summer Shoes for the kids, 8 qt Instant Pot, birthday gift for 9 year old girl, birthday gift for 4 year old boy, birthday gift for husband, Essential Oil Diffuser, Kids Bibles for the girls.
Utilize Compare Tools: There are several places you can track prices of items from your ISO list. I tend to stick with CamelCamelCamel (let's call it CCC). It's straightforward, simple, and free. Basically, you type in a product or even paste in a URL from Amazon and you will get a breakdown of price including historic highs and lows as well as an impressive graphic, making you feel like you're playing the stock market instead of buying socks for a preschooler who constantly runs in the mud without shoes on. CCC is awesome for checking an item's true average price on Amazon. After all, we all know we can't trust the MSRP. An item may look like a good deal until you realize it's been sitting at or below that same price point all year. An example is this pencil sharpener from my ISO list. I saw it on Amazon for $9.99 and almost clicked buy. But after checking it on CCC, I realized the price really wasn't anything remarkable, so I kept shopping.
Create deal alerts: You can set up price alerts on CCC, but I usually use Slickdeals (let's call it SDs). Now I am sorry to say that SDs is not nearly as valuable as it was six or so years ago before it became one huge affiliate link. What you get now is a much higher percentage of sponsored content rather than user submitted deals. But, shopping friends, we can't live in the deals of the past. I have still found some good stuff, even as recently as this week. After registering, you can set up deal alerts for items you are ISO. My deal alerts include brands and stores that I like (Vera Bradley,  Barefoot Dreams, Garnet Hill, Vitamix), things I will only buy on super clearance (Le Creuset, Apple), items we always stock up on when we find a deal (Charlie's Soap, Castile Soap) and key words that I am interested in following (cast iron, organic, Kindle, homeschool, Costco). I have these set up to send alerts to my email, but you can follow them manually by clicking "View Current Matches". It's like a saved search so you can quickly browse your interests.
Go in for the Kill: Now that you know what you're looking for, you've compared prices, and you have created deal alerts, when is it time to click the "buy" button?  This week, I knew my kids needed shoes for summer. I had added "Crocs" (I don't care if you hate them, I'll go with the shoes my three year old can put on himself, thanks) and "Keens" to my deal alerts and I received an email that Crocs were marked down on their website. Because I had been looking at what we had and what sizes we needed, I piled my cart full QUICKLY. I checked out before Crocs.com apparently realized that the code was discounting so much! I bought 14 pairs of Crocs for $5 each shipped. If you know the price is good, buy now. If you change your mind, you can simply return, resell, offer the deal to a friend, or save for a gift. I will probably be passing along some Crocs because I really don't need 14 pairs. What about if you aren't sure of a vendor? I tend to use my American Express because of high security and low risk and just cross my fingers. I've had orders cancelled but a lot of crazy cheap deals have been fulfilled. If you are looking at prices that are 70% off or more, just buy now, think later.
How do you find deals online?
Leah Prescott blogs about homeschooling, family, and bargain hunting at https://2ndgenhomeschooler.wordpress.com/.
This post contains affiliate links.