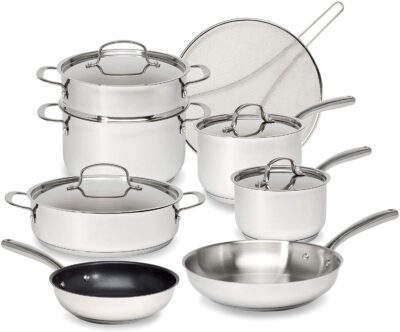 Click here to get your cookware holiday ready at a great price: save up 33% off select Goodful Cookware Sets! This 12 piece stainless steel cookware set is jam-packed with all of the tools you need to cook like a professional. Get the Goodful Classic Stainless Steel Cookware Set with Tri-Ply Base, Impact Bonded Pots and Pans, Dishwasher Safe, 12-Piece for only $99.99 today!
SET INCLUDES: 2 quart sauce pan with stainless steel lid, 3 quart sauce pan with stainless steel lid, 8" non-stick fry pan, 10" fry pan, 5 quart Dutch oven with stainless steel lid and steamer basket insert, 4 quart jumbo cooker with stainless steel lid, 11.25" splatter screen

DURABLE STAINLESS STEEL: This pots and pans set is constructed with stainless steel, which is known for being durable, long-lasting, versatile and easy to clean.

FAST & EVEN HEATING: This 12 piece cookware set comes equipped with tri-ply, impact bonded bases, perfect for achieving fast and even heat conduction.

DISHWASHER AND OVEN SAFE: This entire set is as easy to clean as it is to use! It's dishwasher safe for fast and easy clean-up. No more struggling to do the dishes when you can let your dishwasher do all the work. This set (excluding the non-stick pan) is also oven safe up to 350 degrees Fahrenheit, so you can sear your food and then finish it off in the oven for that perfect crust.

BEST OF BOTH WORLDS: This set comes equipped with a non-stick fry pan, perfect for making delicate eggs and sticky foods, while the rest of the set is made of durable stainless steel.

KEEP A CLEAN SLATE: The included splatter screen adds a layer of protection against hot grease splatters, keeping your kitchen clean and giving you an extra level of comfort and safety while cooking.

MEASURE UP: The 2 quart, 3 quart, 4 quart and 5 quart pots and pans in this set all have measuring marks on the inside, making it easy to measure out ingredients while cooking.
This post contains affliate links.