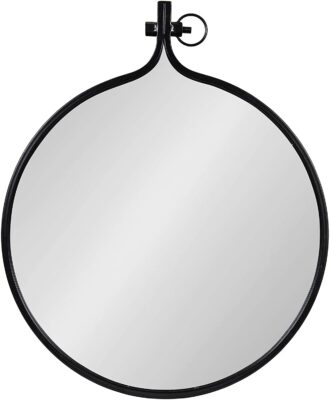 Does your space need a little more interest, luxury, or a pop of color? Today's Epic Deal will take care of that! Click here to save 30% or more off on Home Decor and Artwork. We believe interior decorating isn't a luxury beyond reach—it's for all of us. We offer trendy, practical designs and expertise through our vast selection of curated pieces in one place at a great value. We believe who you buy from is just as important as what you buy. Our knowledgeable team strives to make online shopping as simple as possible with premium quality at competitive prices. Get the Kate and Laurel Yitro Round Industrial Modern Metal Framed Wall Mirror, 23.5×28.5, Black for only $69.99. 
The Yitro Wall Mirror is made of a durable painted metal frame and has interesting industrial detail design paying homage to its decor style. The keyhole hanger welded on the back makes for a comfortable and secure display on your wall

An artistic display on its own, this mirror will be an eye-catching part of any home decorating scheme. The modern shape and the smooth metal frame surround the reflective surface, giving off plenty of light and creating depth in the space

With an outside frame of 23.5 x 28.5 inches, the smooth lines and modern shape of the Kate and Laurel Yitro Mirror is a beautiful addition for retro or modern home decor

The painted metal frame surrounds the large round mirror which is 23.5 inches in diameter. It would be perfect as a vanity mirror in a bathroom or bedroom

A unique, artistic mirror is the affordable way to decorate your wall while bringing light and space into a room
This post contains affiliate links.